Alexandra Aleman
Team Fellowship Award Winner
I would like to thank Dr. Al DeSimone along with Mrs. DeSimone for awarding me the Team Fellowship Award scholarship. I am extremely honored to receive this scholarship as recognition for all the hard work I have put toward my education, basketball and community involvement. You have been a huge inspiration to me through your involvement in the community along with the continuous hard work and dedication to education you have shown over the past years. This upcoming summer I intend to continue my studies as I attend Florida State University, majoring in Exercise Science and continuing on to medical school. Granted this scholarship, I am now able to achieve my academic goals so I can later on give back to the community that provides me so much. Thank you once again for granting me this wonderful scholarship, I am excited for what my future holds and I cant wait to give back to my community as well in the near future.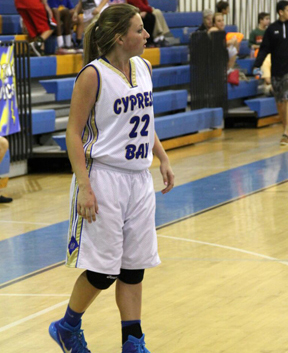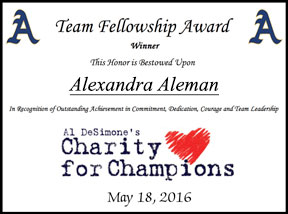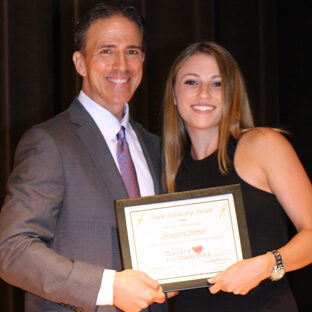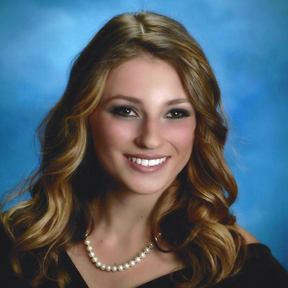 ---
Timothy McSoley
Personal Achievement Award Winner
In June, I will be attending Florida State University to carry on the family tradition of being a Seminole and to receive a quality education. Although I do not quite have a career plan or major decided yet, I know that FSU offers me an abundance of opportunities through research and professional advising to help me find my way. This scholarship allows me to fully explore these options and grow to my potential. I now know that I can focus on my education more and finances less having received this scholarship. It was an honor to be chosen by Dr. and Mrs. DeSimone for this scholarship and I am truly grateful for their recognition of my accomplishments in high school.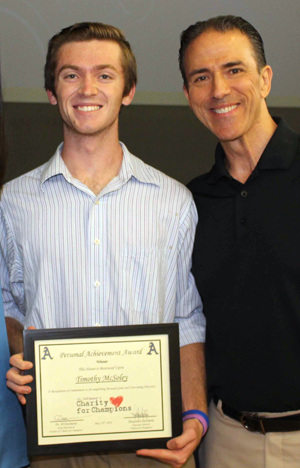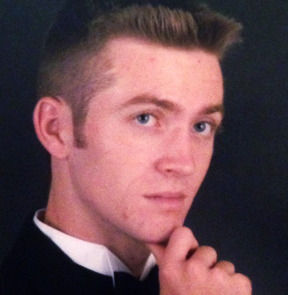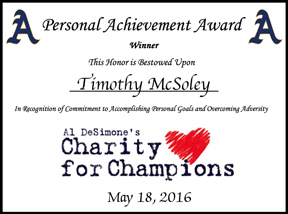 ---
Hanna Hemmati
Sports Medicine Interest Award Winner
Not only do I feel extremely grateful to receive this scholarship from Dr. DeSimone's "Charity for Champions" organization, but I have also been inspired by Dr. DeSimone to work even harder to pursue my dream as a sports medicine physician. I've always loved sports and science, and have always dreamt of impacting someone's life, which is why I chose to make sports medicine my career goal. While this goal may have seemed out of reach in the past, it now seems attainable and I can't wait to begin my studies and get closer and closer to my dream. I will be studying biomedical sciences at the University of Central Florida, and will attend medical school after receiving my Bachelor's degree. I also still plan to keep soccer in my life, and will either play recreational or club soccer at UCF. With special thanks to Dr. DeSimone and his organization, I not only have financial aid in achieving my career goals, but I also have a new found inspiration and more determination to follow in his footsteps and be a successful sports medicine physician someday.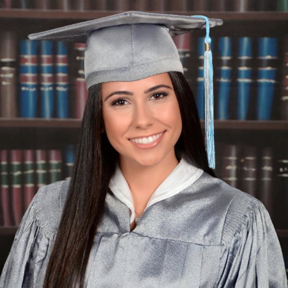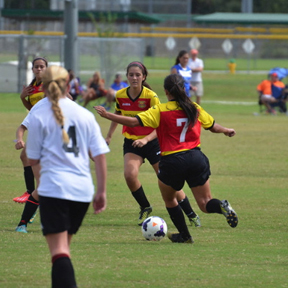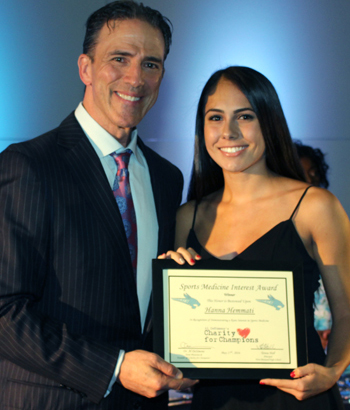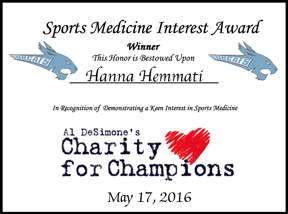 ---
Rachel Blow
Excellence Achievement Award Winner
My name is Rachel Blow and it is a huge honor to receive this recognition. I have been playing soccer my whole life and will be attending Tennessee Technological University in the fall to play soccer and to study nursing. I am extremely grateful for the scholarship I have received because it will help me be able to continue to play the sport I love and further my education. I worked very hard to maintain a high GPA throughout high school while playing travel soccer and high school soccer. It feels great to know that I am being recognized for all of my hard work.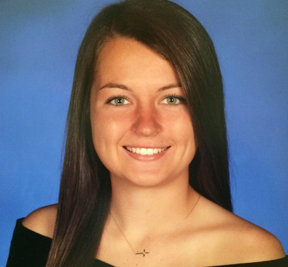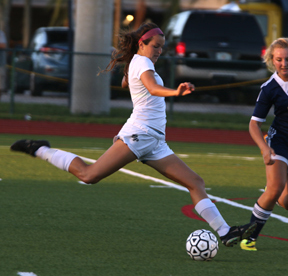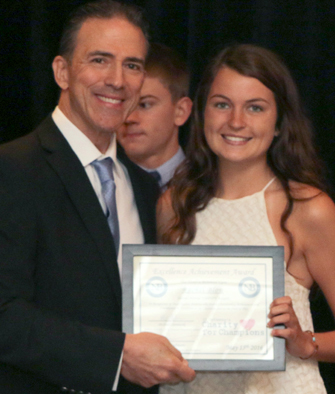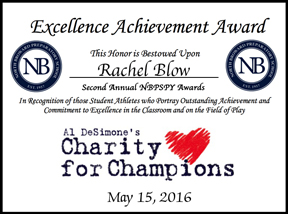 ---
Roshon Condell
Excellence Achievement Award Winner
By earning the Charity for Champions Excellence Achievement Award, I will be afforded stronger opportunities to succeed at a postsecondary institution. Not only does this scholarship mean extending my opportunities, it also means for me to gain more knowledge about the technological world. With this scholarship, I would be able to allocate more time for me to study instead of focusing on financial burdens. Now I can take the necessary steps to studying computer engineering, as it will give me the opportunity to attend an elite university with one of the noblest engineering programs in the state, the University of Florida. My desire is to accumulate enough knowledge and experience so I can give back to the community in the future. I plan to help and provide assistance to others by combining my passion in mechanics and computers to develop programs and create codes that will help improve human life. With the creation of these efficient programs, my codes could be used to enhance American security such as disabling the advancements of possible cyber attacks. With great minds like Bill Gates or Larry Page, I am inspired to have a lasting impact like them.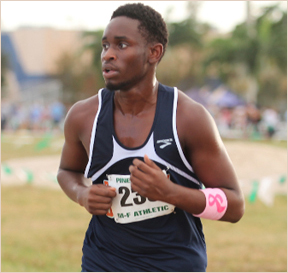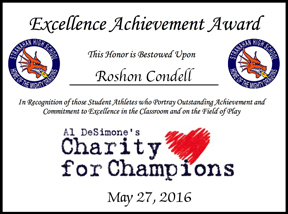 ---
Ryan Gamarra
Goodwill Scholarship Award Honorable Mention
The fact that I was able to receive any recognition from you, your wife and your organization was an absolutely amazing experience. I was at a loss for words when I was first told I would receive this scholarship. All my hard work throughout my four years of high school had paid off in some way. My favorite part had to have been my family telling me how proud they were of me and my accomplishments. In the future I plan on studying Business and Sports Management at the University of Florida and working hard to achieve my goal of working for a major sports team. Thank you for all you have done for me.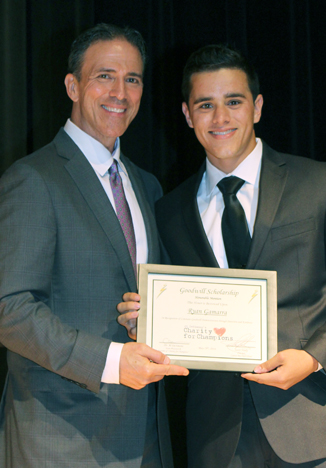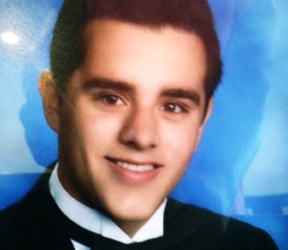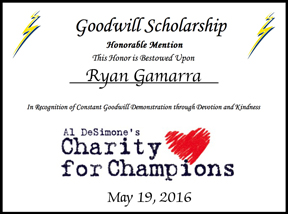 ---
Donte Carriere-Williams
Personal Achievement Award Winner
My plans on the next level is to triple my work ethic in the books while maturing as an adult in real world. Receiving this scholarship means the world to me. It shows me that people see the growth and maturity I have as  a young man and it drives me to receive more as time gets closer to me attending college.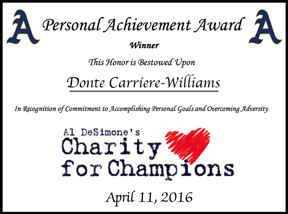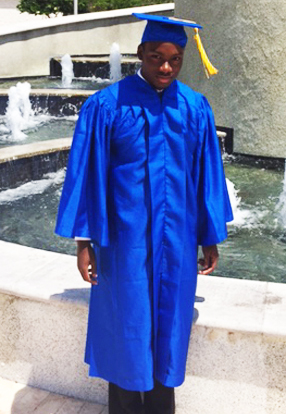 ---
Carla Corsetti
Academic Achievement Award Honorable Mention
Thank you so very much for selecting me to receive the honorable mention in the academics category for Dr. DeSimone's Charity for Champions scholarship. It means a lot to me to be recognized for my efforts in balancing both my academic course load and my involvement in school related sports. I plan on attending classes in June at the University of Florida and I am pursuing a career in speech pathology with a dual major in both Communication Disorders and Elementary Education. This award will go towards helping finance my goals. Once again thank you very much for selecting me for this amazing scholarship.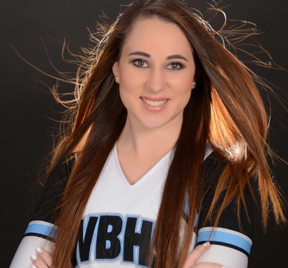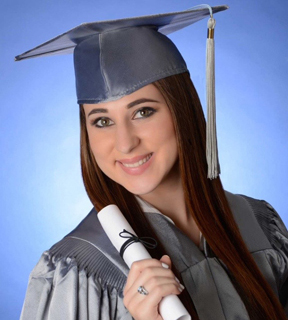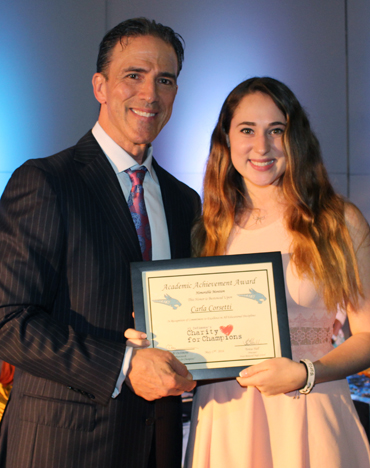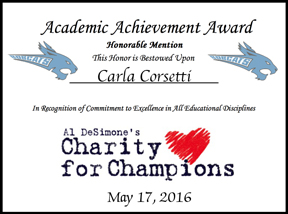 ---
Shana Rotman
Team Fellowship Award Honorable Mention
I am extremely honored to have received the Team Fellowship Award from the Charity of Champions organization. This recognition will aid me as I attend Florida State University and major in Exercise Physiology before continuing on to medical school. I would like to thank Dr. and Mrs. DeSimone for giving me this incredible opportunity and for recognizing my dedication and hard work.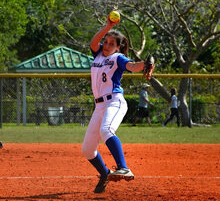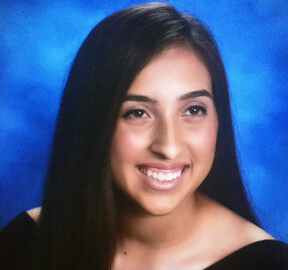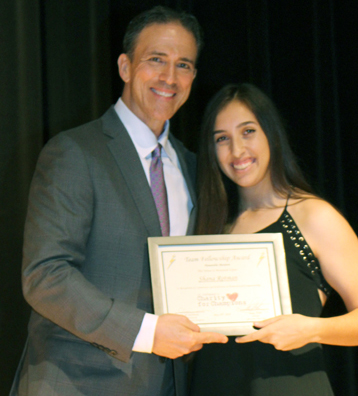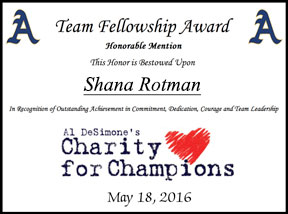 ---
Edward Klem
Team Fellowship Award Winner
I would like to take this opportunity to thank Dr. DeSimone and Mrs. DeSimone for their generosity in awarding me the Team Fellowship Award. Being a team player has always been my top priority and receiving this award is a huge honor. I will be attending the University of Florida this upcoming fall. I plan to major in Applied Physiology and Kinesiology. One day I hope to become an orthopedic surgeon and specialize in sports related injuries. Thanks to Dr. DeSimone and Mrs. DeSimone my medical school fund has already started.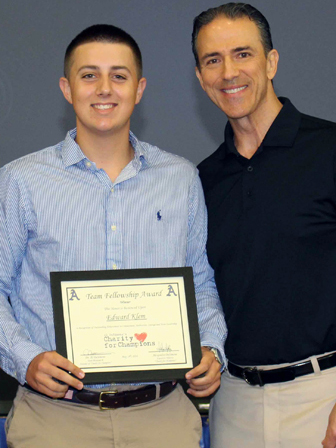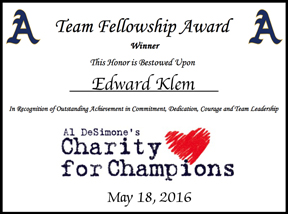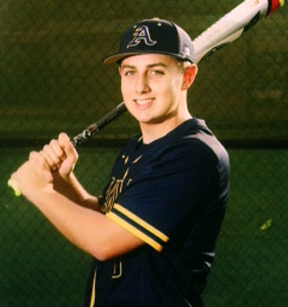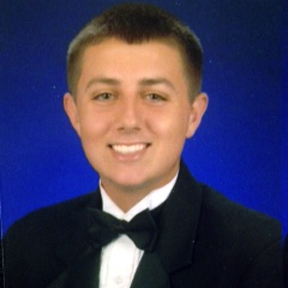 ---
Tomi Balenovic
Extraordinary Community Service Award Honorable Mention
I am honored to have been selected for the Extraordinary Community Service Award Honorable Mention. Two weeks before starting high school, I lost my brother. It was, and continues to be, very challenging. I did my best to persevere. I volunteered extensively in my community and through my National Honor Society Program. I plan on attending Florida State University this fall and studying biology. I hope to attend graduate school for veterinary medicine. I earned over 500 hours of practical experience through the Vet Assist Program at my high school. I passed the CVA exam and earned my Florida Veterinary Medical Association Assistant Certificate this spring. This has given me a head start on pursuing my goal of becoming a veterinarian. I am very grateful to Dr. and Mrs De Simone and their Charity for Champions Foundation Scholarships for their commitment to helping students such as myself. I hope that I can live by their example and do the same one day.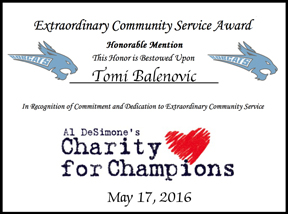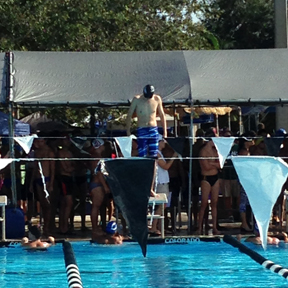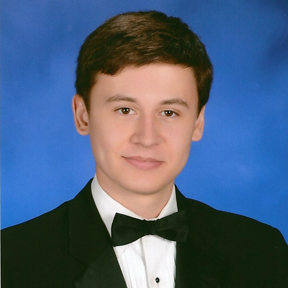 ---
Andrew Blake
Academic Achievement Award Winner
I am extremely honored to be a recipient for the Academic Achievement Award. By providing me with this scholarship, Dr. DeSimone has helped me further my education, and has made me one step closer to my goal of becoming a physician. I would like to thank him for believing in me, and assisting me in pursuing my career. I will be attending the University of Notre Dame (majoring in Biology) in the coming fall, and I intend on pursuing medical school afterwards. With a little luck and a lot of hard work, I hope to be an orthopedic surgeon who remains involved in sports and active in my community just like Dr. DeSimone.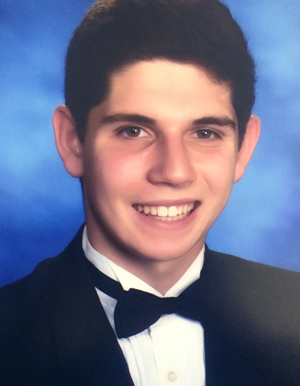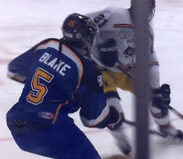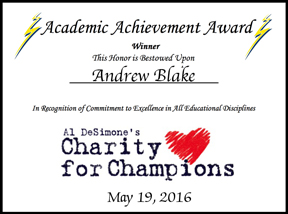 ---
Julianne Ramos
Athletic Achievement Award Winner
I plan on going to Dominican College in Orangeburg, New York in the fall of 2016. I will be participating in both the Women's soccer team and track team in Dominican College. I received a scholarship for both sports. My goal is to either to be selected to be on a professional soccer team or be a physical therapist continuing to help others.  I cannot express in words how honored I am to have received the scholarship/recognition from Al DeSimone's Charity for Champions.  This mean so much to me because a group of people saw all the effort, work and love I put in to not only my life but my sports and they rewarded me for that.  I still cannot believe I got the scholarship, I am forever grateful. Thank you so much for everything, I will continue to be a leader and show sportsmanship on and off the field.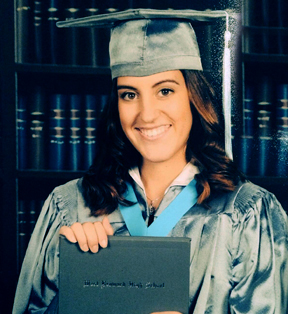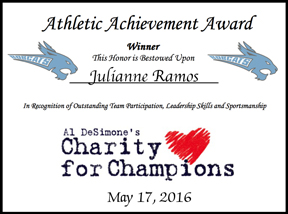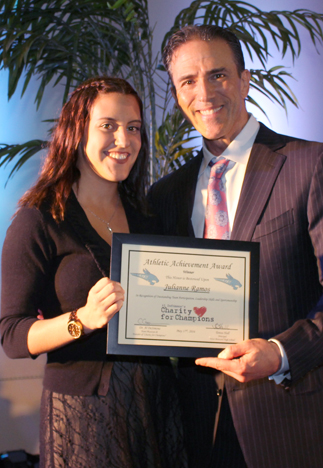 ---
Gavin Green
Athletic Achievement Award Winner
Thank you Doctor DeSimone for the Most Improved Athlete Award for 2016. The award means a lot to me because I do not want to burden my family with a lot of student loan debt since they will pay for my schooling. I plan to play football at Baker University while studying computer science. I hope to impact and inspire people on and off the field as the small guy doing big things. I plan to be a starter and NAIA All-American. I plan to one day make enough money with the job I hopefully earn from a college internship to provide for my family and give them a better life than I had. Thank you again Dr. DeSimone I and my family appreciates you greatly for what you did for me and many others. God bless I'll see you soon.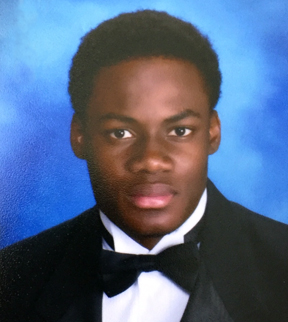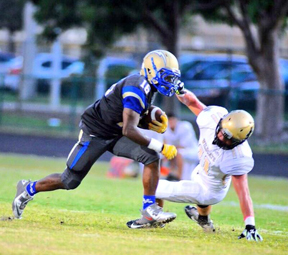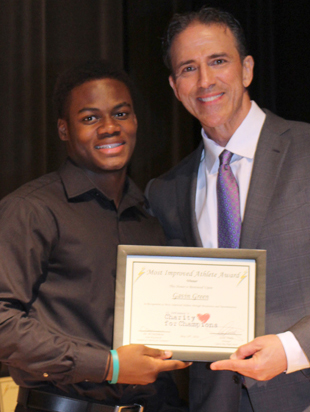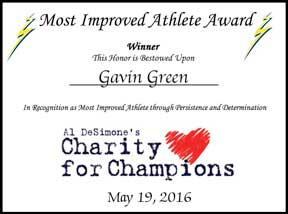 ---
Christian Garcia
Goodwill Scholarship Award Winner
After graduating from high school, my future plans are to attend Florida State University and I will be starting in the summer. At Florida State University, I plan to major in biological sciences and I would like to obtain a master's degree. Once I have graduated from college with a bachelor's degree in biological sciences I am going to apply to med school to further my education and become a physician or a pharmacist. In whichever career I decide my main goal is to have a positive affect on society. Now that I am a recipient of the Goodwill Scholarship, I will have to live up to that honor by displaying great character and being a roll model within the community. In addition to this, receiving the Goodwill Scholarship has been a great honor for me, since it has shown all the hard work and dedication I have invested into school and the community has finally paid off. I would like to thank Dr. Al DeSimone's Charity for Champions and Mrs. Solovay for this great honor and opportunity.