Tyler Rigaud
Sports Medicine Interest Award
When my name was called during the award ceremony to receive the scholarship it seemed as if my heart stopped. I was so excited to be recognized for something that I am enthusiastic about and plan to do in my future. I plan on becoming an orthopedic surgeon that practices in the field of sports medicine. I am truly humbled and appreciative of this scholarship which was awarded to me. Not only will this scholarship assist my high need for financial assistance in college, but it also serves as motivation because it shows me that I am on the right track and worthy of such an award in another person's eyes. This scholarship also reminded me of my academic success in my high school years that I wish to continue in college. I cannot thank you enough for this generous award being given to me.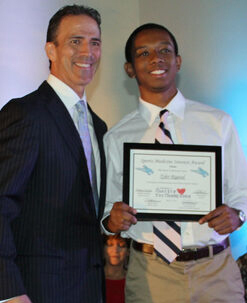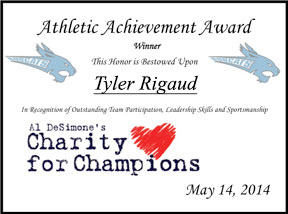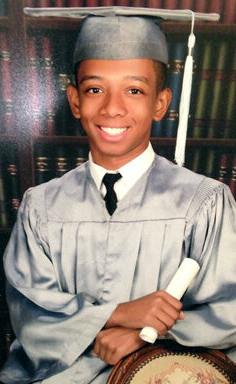 ---
Kristina Seeber
Team Fellowship Award
First off, I am writing to express my sincere appreciation to you for making the Charity of Champions possible.  I was ecstatic and deeply appreciative of receiving this award. The money that I will receive will benefit my freshman year of college immensely. Due to the fact that books and supplies are so expensive, the money will be used to pay for my books and materials. This is such an honor to be recognized for Team Fellowship Award as an Honorable Mention. Growing up, Dr. DeSimone has always been a role model. As I wish to pursue my career in nursing, I will always remember this opportunity I was given and maybe one day I'll follow his footsteps.  In Fall 2014, I will be attending Valencia college, and within the next 2 years I hope to further my education at the University of Central Florida. The recognition of this award was the high light of my senior year. Not only did all of my hard work pay off, but I was given the opportunity to become a role model. Thank you again for your kindness and support. I will work very hard and eventually give back to others, both as a nurse and perhaps a scholarship to potential students like myself.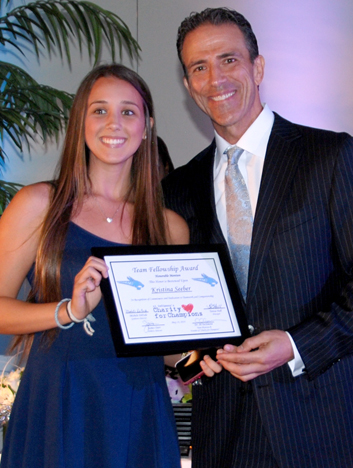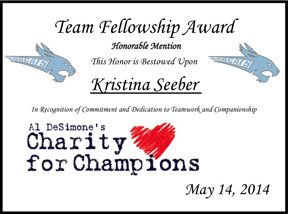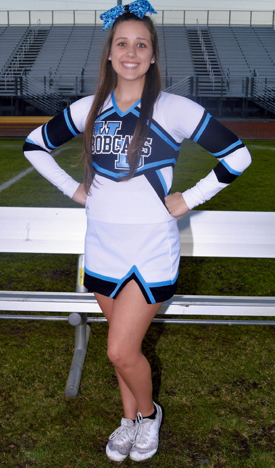 ---
Marco Gonzalez
Artistic Achievement Award
In the very near and eager future, I'll be attending Florida State University and beginning my studies to become a Nurse Practitioner, and hopefully work in an Emergency Room someday. I have a fairly strong interest in moving to the west coast, so hopefully I'll move out there after my first four years of college, to go to Nursing School. Apart from my prospective career as a healthcare provider, I'm looking forward to writing and maybe even publishing stories in college, as that has been a lifelong interest of mine. This scholarship represents recognition that I very much appreciate, of the hectic existence that being part of band and XC/Track was. I'm inspired by the thought that Dr. DeSimone and those who played a role in this see enough potential in me to want to help me pay my way through school; that is priceless.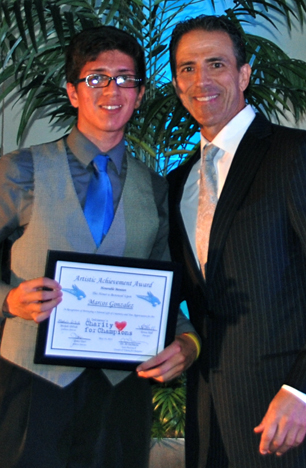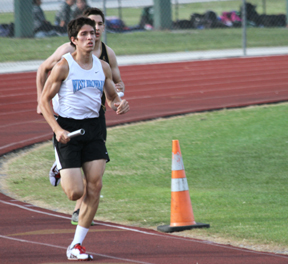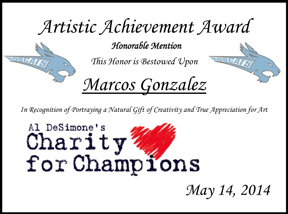 ---
Alexa Sesto
Most Improved Athlete Award
It was truly an honor to receive this scholarship. Being recognized for my athletic achievements and accomplishments is such a privilege. At the University of Central Florida, I plan to study Biological Sciences. Once I have completed my Bachelor's degree, I aspire to go on to medical school. Thanks to the Charity for Champions organization and Dr. DeSimone, I am one step closer to achieving my dreams.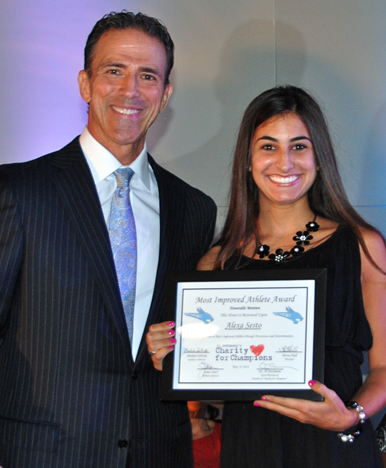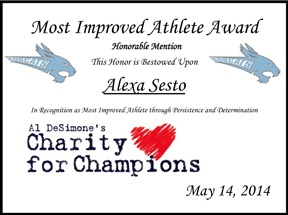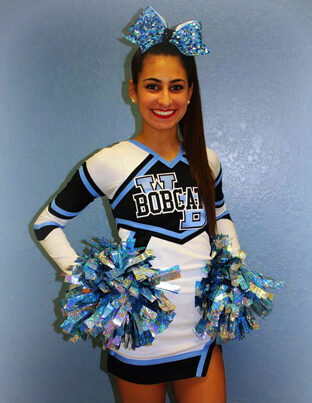 ---
Connor D' Orio
Athletic Achievement Award Winner
From the moment I walked into Dr. DeSimone's office, I knew what I wanted to become. I hope to follow in his footsteps and become an Orthopedic Doctor. Being a high school athlete, I would like to help out all of those people that get washed up in sports related injuries. I will be studying sports medicine at the University of Central Florida in the fall and the scholarship would help me immensely; anywhere from books and classes to all of the things "mommy and daddy" won't be buying for me anymore. Also, the scholarship is coming from the person I'd like to become one day. The Athletic Achievement Award will be greatly appreciated and will help me with my future studies.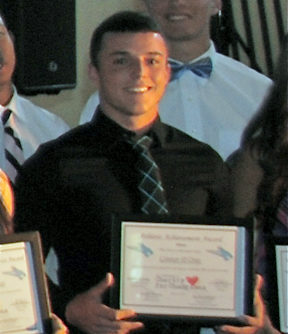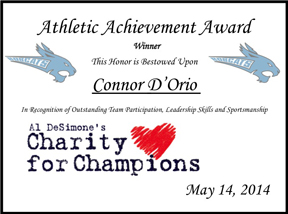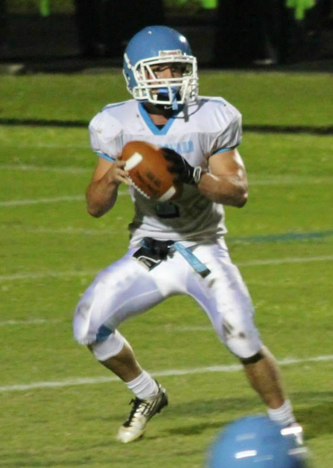 ---
Alexander Lesesne
Athletic Achievement Award Winner
My future planning is to further my education at Miami Dade College majoring in Film/TV Production. I plan to learn how to be the best screenwriter and actor I can be while enhancing my previous skills in this area to become successful. I am chasing my dreams in a field that is my passion and looking beyond a field that doesn't interest me. I have recently completed my first full feature length movie script and currently working on my next while currently starring in an independent feature film. This scholarship means a lot to me because wrestling is not a very popular sport in South Florida and it shows me that all my accomplishments and hard work wasn't overlooked. Not to mention, that me being a leader and a captain not only in a sport was recognized, but in the class room as well. I am very thankful I have received this award out of all the talented athletes in South Florida. Charity for Champions is an empowering organization and I appreciate the work it has done for me and future students to come. Thank you!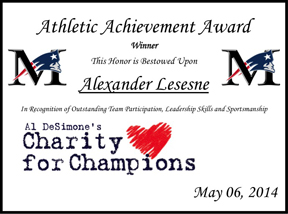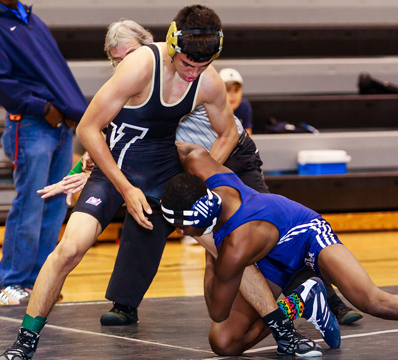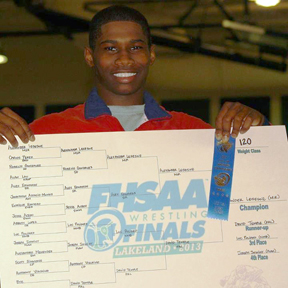 ---
Alexis Marquez
Academic Achievement Award
I see this scholarship as an investment- an investment that promotes people of excellent character to maintain their inspiring role model status as they move on to college. Not only am I thankful for being recognized, but I am also grateful for having the privilege to be such a role model. As I venture on to further my education at Cornell University, I am eager to continue being a teammate, both on their sports teams and within the Cornelian community. I was honored with the scholarship for academia, and I am fervent to conquer my courses, majoring in Chemical Engineering. Thank you Dr. DeSimone for promoting my team oriented qualities with your charity and for honoring me with a privilege to be a part of the Charity for Champions movement.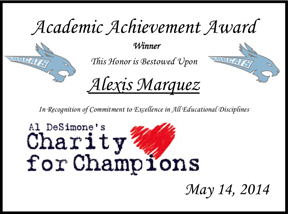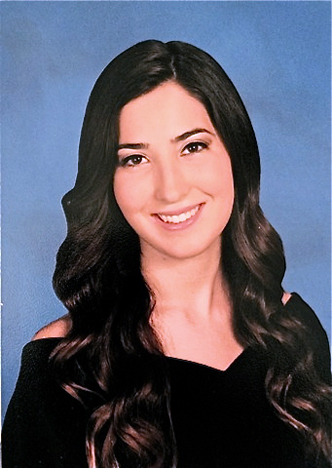 ---
Alana Stanback
Goodwill Scholarship
My future plans at FIU are to obtain my masters degree in Hospitality Management in order to help those who cannot help themselves. I want to open a restaurant where you can have good quality, healthy food but pay what you can afford. The Goodwill and Kindness Scholarship Honorable Mention means a great deal to me. I always try my best to be the best me around friends, family, as well as strangers. This scholarship helped show me that I am succeeding in accomplishing that self-goal.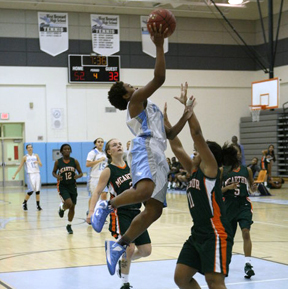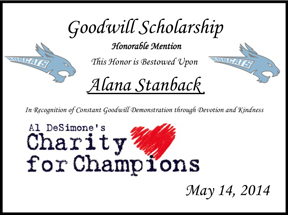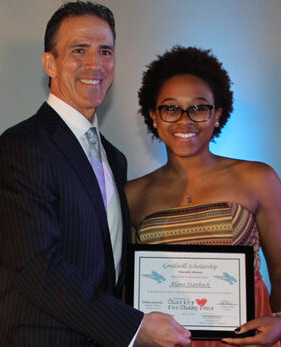 ---
Corey James Balko
Goodwill Scholarship
Next year I will be attending the University of Florida, where I will be working toward my bachelor's degree in Biomedical Engineering. I look forward to becoming involved in different research projects pertaining to that field and hopefully I will be able to make a real difference. I feel that the best training, at least for myself, is hands on, and there is nothing I want more than to be part of a team that is able to make some type of breakthrough. This scholarship, to me, is an acknowledgement of the efforts that I have been making not only in my sport, but also throughout my high school career. It is easy to lose track of what is important and of who you are, but this acknowledgment assures me that I am on the right track. I am incredibly thankful not only to Dr. DeSimone, but to every individual involved in the Charity for Champions.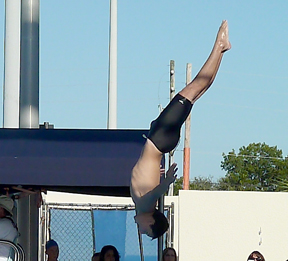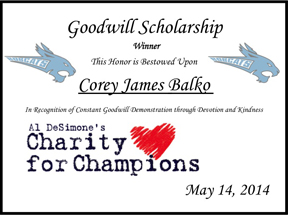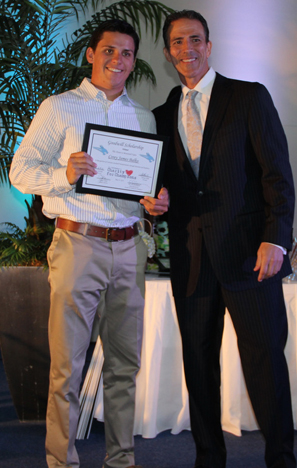 ---
Melanie G. Lane
Most Improved Athlete Award
Being a recipient of the Most Improved scholarship meant a lot to me because it is nice to be recognized for the hard work and dedication I put forth to get to where I'm at right now. There are always times where you feel like giving up, and I persevered from continued practicing, this scholarship testifying my persistence. This journey has taught me to never lose hope and stay dedicated. I won't let obstacles knock me down and I know with the right mentality I can succeed, just as I had from improving my soccer skills through two-a-day practices throughout my entire summer, 6 days a week. The money from this scholarship will help fund the rigorous courses I am to take at the University of Florida where I aspire to become an Orthodontist. In my future I will continue to keep my head high, work hard, and devote myself to become a successful student and orthodontist.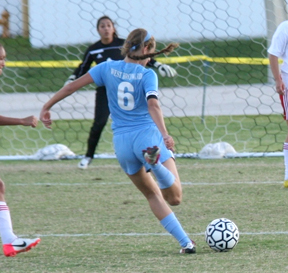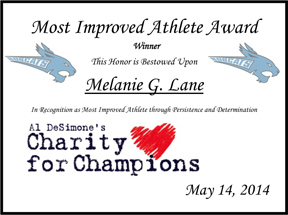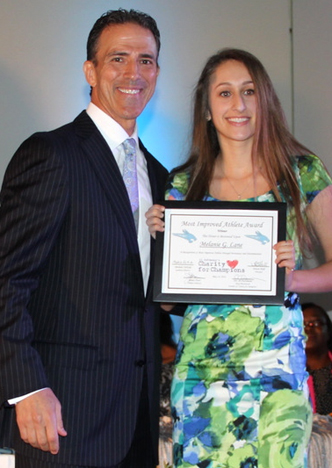 ---
Max Udine
Most Improved Athlete Award
In the future, I plan on pursuing a Masters of Science in Finance at the University of Florida. My dad studied Finance at UF, and I plan on following in his footsteps by earning a Masters degree. Being awarded the DeSimone scholarship was a humbling honor. It gave me a feeling of accomplishment knowing that my hard work, both in the classroom and on the court, was recognized. I can't thank Dr. DeSimone enough for selecting me, out of many applicants from my school, for this award.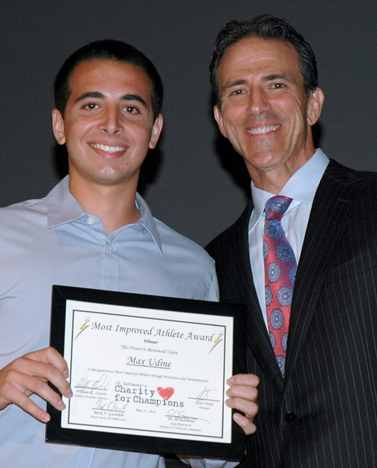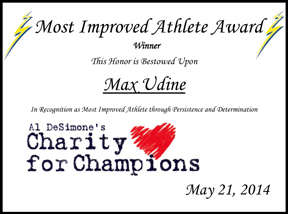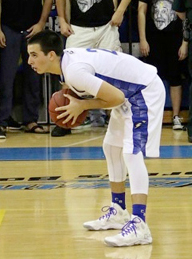 ---
Alexandra Harris
Extraordinary Community Service Award
I will be attending Emory University in the fall of 2014, where I plan to major in psychology. I hope to go on to graduate school and ultimately pursue a career in behavioral psychology for disabled children. I appreciate the recognition provided by Charity for Champions in honor of my community service, a passion which I plan to continue during my higher education.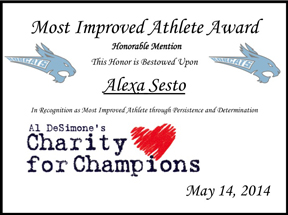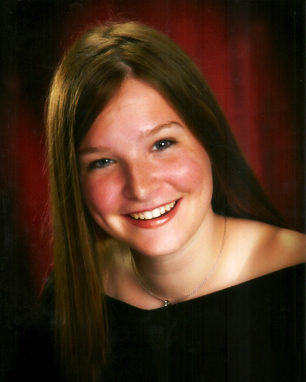 ---
Catherine Del Rio
Personal Achievement Award
Starting summer 2014 I will be attending the University of Florida majoring in criminology and law. My hopes are to also attend the University of Florida for law school. I aspire to be a district attorney in Texas. This scholarship was such a gift as it will aid in the furthering of my education, and I have a long way to go. I'm so thankful for Dr. DeSimone and this scholarship, it was such a gift.
Thank you so much!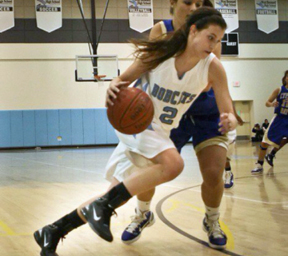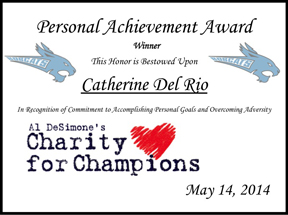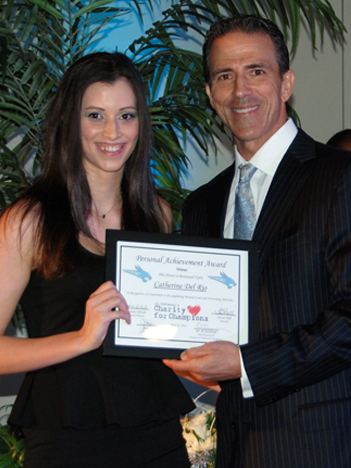 ---
Justin Felici
Academic Achievement Award
I cannot thank you enough for choosing me as the scholarship recipient representing the academic achievement honor.  I stood on the stage after receiving the award with such pride and gratefulness.  I know that you had so many worthy recipients and that making a decision must be so tough; I am just so happy that I was chosen. Dr. DeSimone, you are quite an inspiration to so many. As a doctor who has worked with the Florida Panthers, and as someone who is so influential in the medical health of this community, especially young athletes, you have helped me choose the potential path of practicing medicine while hopefully also working with athletes. You have a gentle, but powerful effect on those in need of "fixing." You actually saw my grandfather, who was scheduled for shoulder surgery in Stuart, Fl, and informed him that his "shoulder injury" was actually a torn bicep.  My mom, who had asked you to work him into your schedule (she was a trainer at USI) was so appreciative that you saved him from what she called pretty devastating surgery for an 80 year old man. That is just one story, but there are so many about what a great doctor you are, and I cannot think of anyone that I would professionally aim to be like more. Again thank you so much! I hope to add to your Wall of Champions again in four years as I finish my Bachelor's degree at the University of Florida and pursue a path working with patients either directly or indirectly.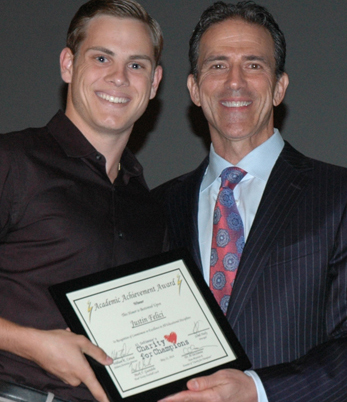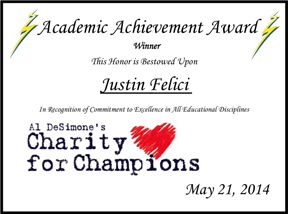 ---
Katherine Mary MacNeal
Athletic Achievement Award
I'm so thankful for Charity for Champions for awarding me with the Athletic Achievement Award. I will be attending the University of Mississippi (Ole Miss) and running Cross Country and Track. I am majoring in Exercise Science and plan to become a physical therapist. This scholarship will help me achieve my goals and pursue my dreams. Thank you so much Dr. DeSimone for your generosity.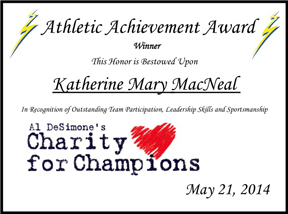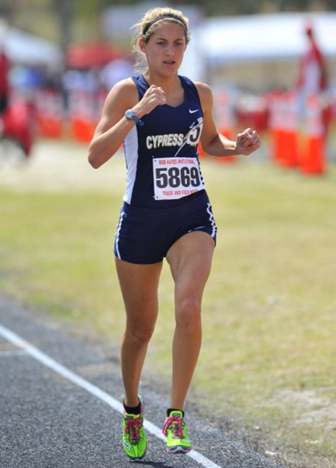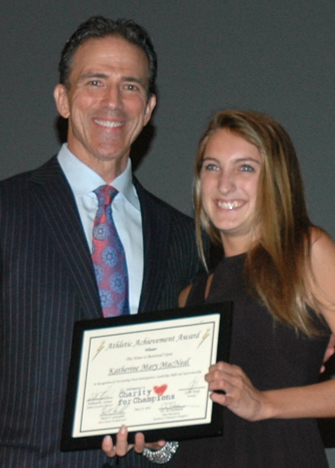 ---
Austin Touchstone
Lightning Award
I plan on studying Marine Biology at Florida International University and walking on to the football team once I am completely healthy. This scholarship means a lot to me. Being honored with this award shows that all of the hard work and dedication to not only the game of football, but to my teammates and coaching staff, has finally paid off.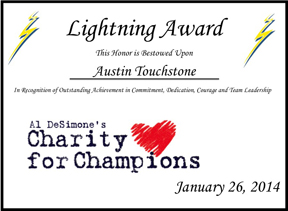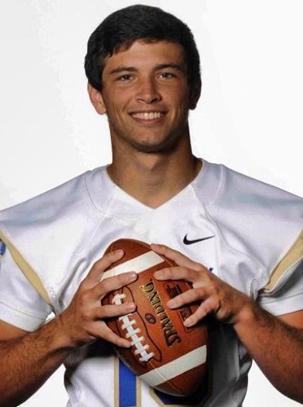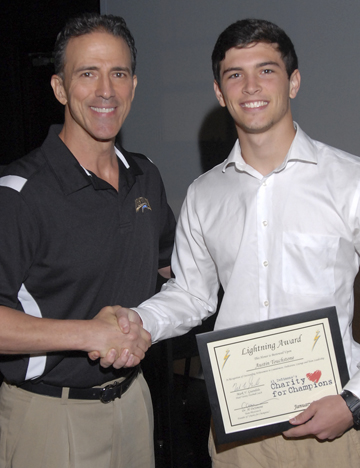 ---
Brianna Miller
Artistic Achievement Award
My name is Brianna Miller and I was the recipient for the Charity For Champions Artistic Achievement Award. I would like to thank you on behalf of both myself and my family for your benevolence. I have been struggling financially for quite sometime now, and the idea of college has always overwhelmed me for that reason. Truthfully, I didn't think I was going to win because I figured it would go to students with more athletic achievements or more years of experience in their sport. I thought I wasn't what you were looking for. However, winning this scholarship surprised me and made me realize that I can truly achieve greatness if I believe in myself, put in the effort, and strive for it. I want to thank you from the bottom of my heart for doing this, because I know you didn't have to. You're incredibly kind and selfless, and I am honored to be one of your recipients. God bless you and your family.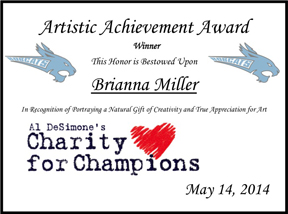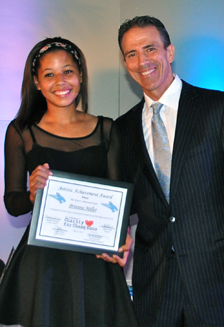 ---
Jorge Beristain-Mayol
Artistic Achievement Award Winner
I would first like to thank Dr. Al DeSimone and his staff for selecting me for the Artistic Achievement Award Honorable Mention and the very generous scholarship that came with it. I will be attending the University of Alabama in the fall of 2014 and planning in majoring in Business and minoring in Communications. This awards strengthens my resume with adding yet another award on to my communication background. It builds my confidence in knowing that people recognize my work in television productions. Thank You again!