2023 SUCCESS STORIES
Steven Sawyer
Athletic Achievement Award Winner
I am grateful and honored to be selected as a recipient of the Charity for Champions' Athletic Achievement Award. In the fall, I will attend Florida Gulf Coast University's Honors College where I will pursue a Bachelor of Science degree in Environmental Geology. My goal is to become a Florida Licensed Professional Geologist and focus on areas such as hydrographic surveying, coastal engineering projects, and researching practical solutions for the red tide crisis.
Thank you, Dr. DeSimone and Charity for Champions, for granting this award and acknowledging my hard work throughout high school. The recognition is so meaningful to me and my family, and it will help turn my education goals into reality.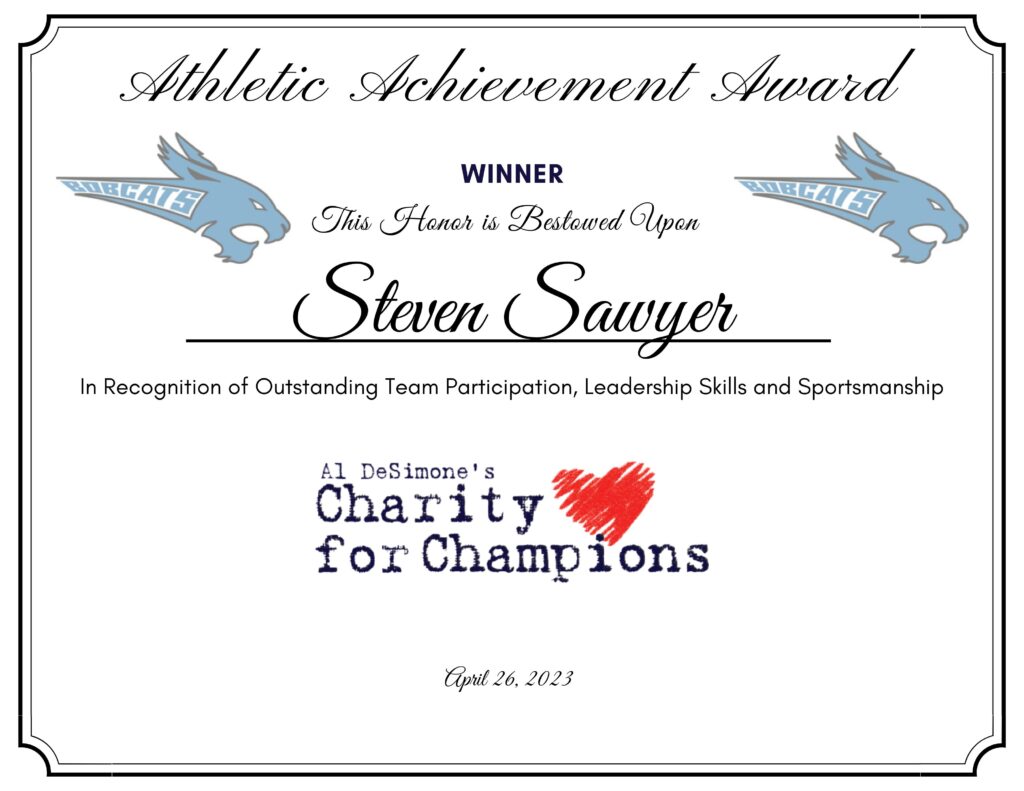 ---
Taylor Pierson
Extraordinary Community Service Award Winner
I am incredibly grateful to Dr. DeSimone for this scholarship. The way that you support and assist your community is an inspiration. This fall, I will attend the University of Florida and study health sciences. I plan to use my future career in healthcare to do more for my community and help those around me to reach their goals. This scholarship will allow me to reach my goals by lessening my financial burden. I will pay it forward in the future and provide such opportunities for others. The recognition of this scholarship is honoring. I am thankful to be receiving this award for my work in benefiting my community. It has had a large impact on my life and as I go to college, I will continue to find ways to help those around me.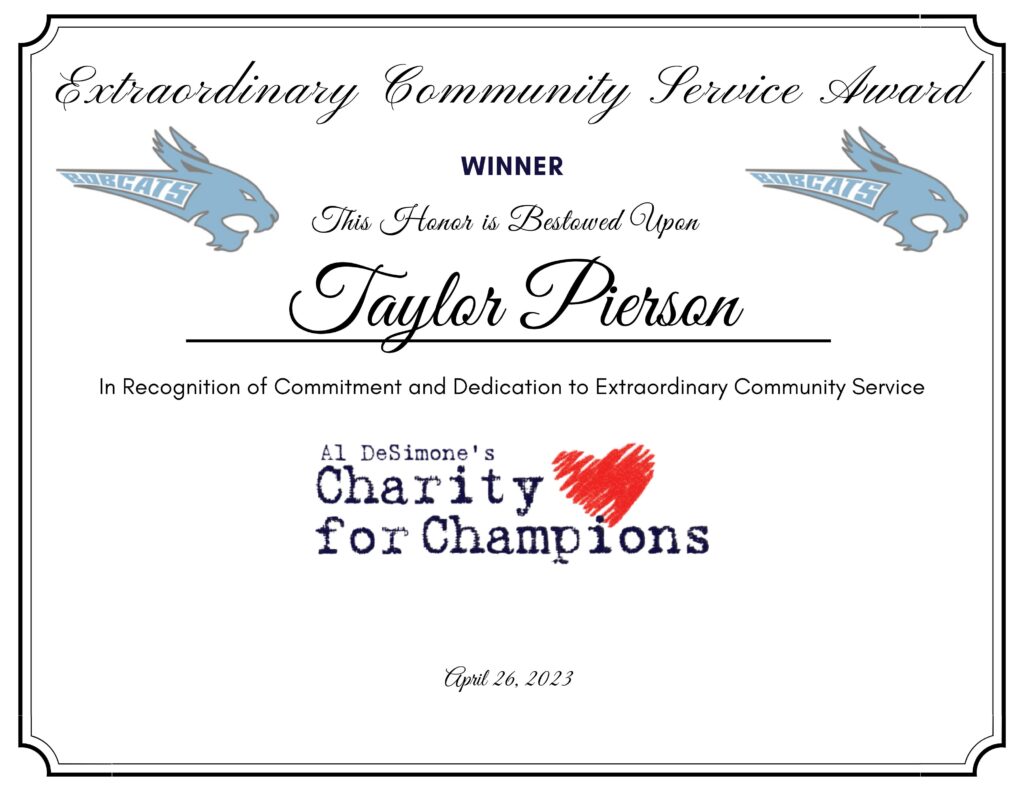 ---
Rachel Zimmerman
Personal Achievement Award Winner
Thank you so much Dr. DeSimone and Charity for Champions for this scholarship. It means so much to me to have received recognition for achieving my goals and overcoming adversity. Throughout my cheerleading career I have faced some medical challenges the most current one being an ACL tear. It has been difficult dealing with such a serious injury my senior year. I was told I would not be able to cheer during my last year of high school but through much hard work and dedication I was cleared within six months and was able to take the mat with my team at states where we won first place. I will be attending the University of South Florida in the fall where I will be majoring in Business. My goal is to one day be able to own a successful business in Fashion Design. While attending the University of South Florida I hope to continue my cheerleading career as I will be trying out for the All Girl team. Once again thank you so much for this award, this scholarship will help offset the cost of my college tuition. I am truly honored to be recognized for this award.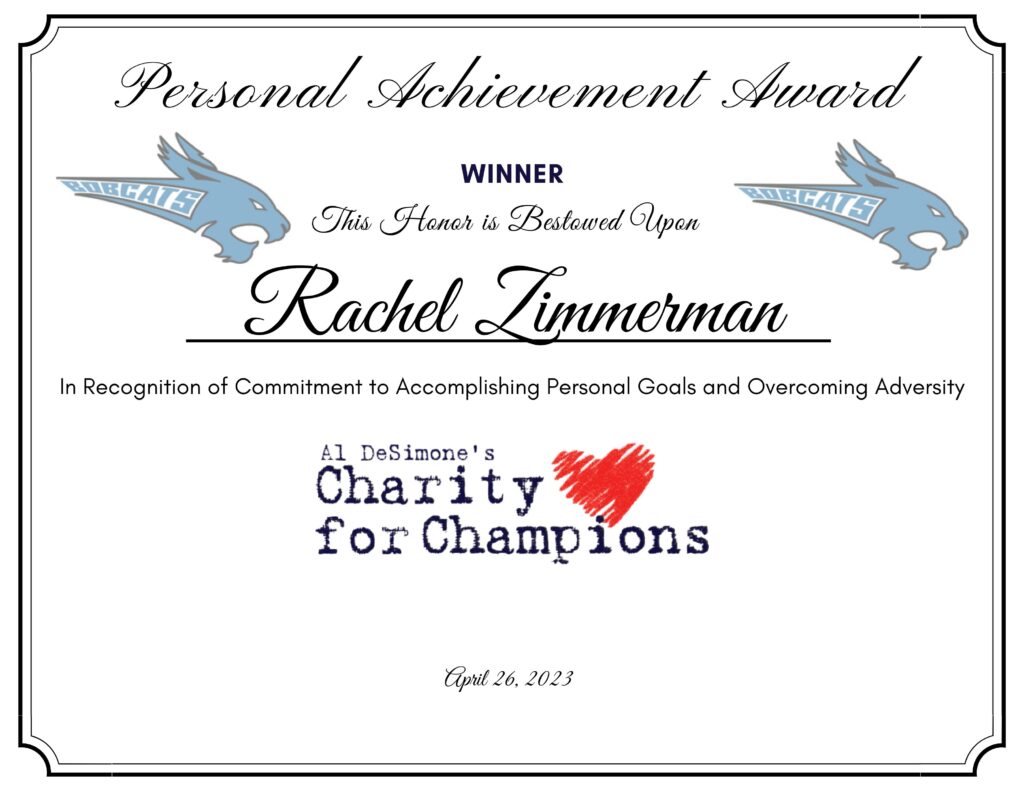 ---
Elisa Ortuzar
Medical Interest Award Winner
First and foremost, I would like to thank Dr. DeSimone and the Charity for Champions organization for the opportunity to be the recipient of the Medical Interest Award. I am extremely honored and humbled to receive this recognition which serves as a great motivator to continue working hard to pursue my career goals of becoming a Sports Medicine P. A.. Furthermore, I really appreciate the financial aid that comes with the award which will help me pay for my college expenses. Throughout my past 12 years as an athlete, I have dealt with many sports related injuries. Doctor DeSimone and his amazing team of orthopedic doctors and therapists have been there for me since day one. Since my first injury back in 2015 till my last one in 2022, they have helped me not only to heal and recover so I can go back to my beloved sport, but have also inspired me to want to do the same for other athletes. I have developed a passion for sports medicine, and I can't wait to help and impact others' lives the way they have done with mine. I will be attending the University of Central Florida this summer. I plan on double majoring in Kinesiology and Nutrition, and then becoming a Sports Medicine Physician Assistant. Once again, thank you for this honorable award and for everything that comes with it.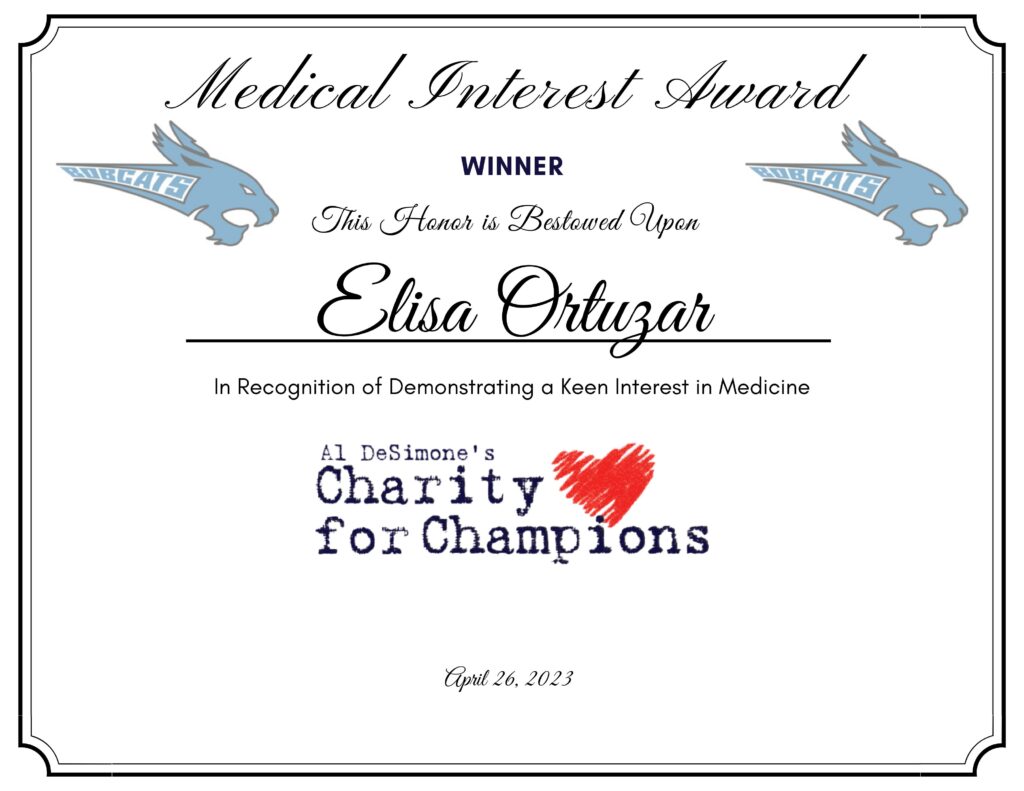 ---
Loralai Lambert
Academic Achievement Award Winner
Charity for Champions is one of the greatest blessings I could have asked for. This scholarship has proven to me that all of my hard work and dedication to my sports and academics have truly paid off. I feel recognized for my achievement in all that I have done in my high school career. Starting in the summer, I plan on attending the University of Florida to study Sports Management. I am excited to continue my learning, as well as continue on my health and fitness path. Due to this scholarship, I will be relieved of much of the stress that comes with starting one's college experience. I cannot wait to get involved in various clubs, organizations, and attend all of the Gator sports events! Thank you so much to Dr. DeSimone & Charity for Champions!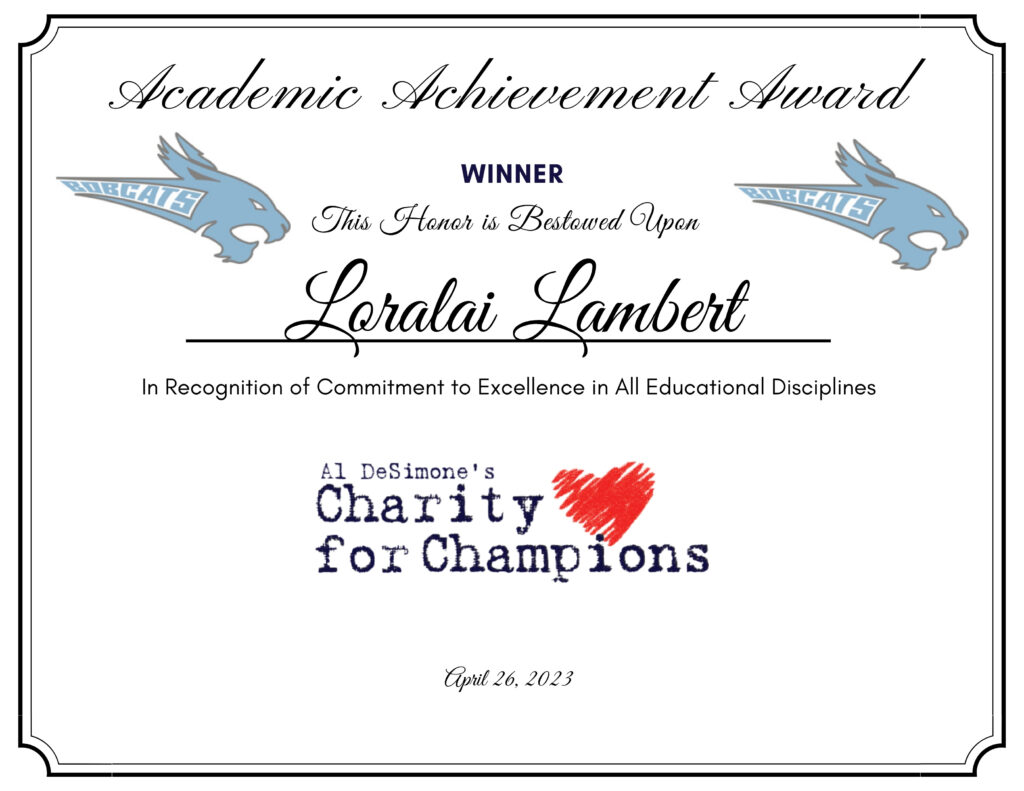 ---
Jesus Rodriguez
Athletic Achievement Award Honorable Mention
First, I would like to thank Dr. DeSimone and the whole board at Charity for Champions for providing me with this scholarship. It means so much to be recognized and selected as the honorable mention for the Athletic Achievement Award. I will continue my academic and athletic career at Barry University in the fall. While playing baseball, I will be pursuing a degree in Finance. With this scholarship money, I will be able to pay off some of the expenses that were left to be able to go to Barry and pursue one of my dreams of playing baseball at the collegiate level. This scholarship will remind me of all the hard work that I have put in does pay off in the end. It will always remind me to trust the process even through the toughest parts. I took pride in what I was able to accomplish in the last four years both on and off the field.
Thank you for this opportunity.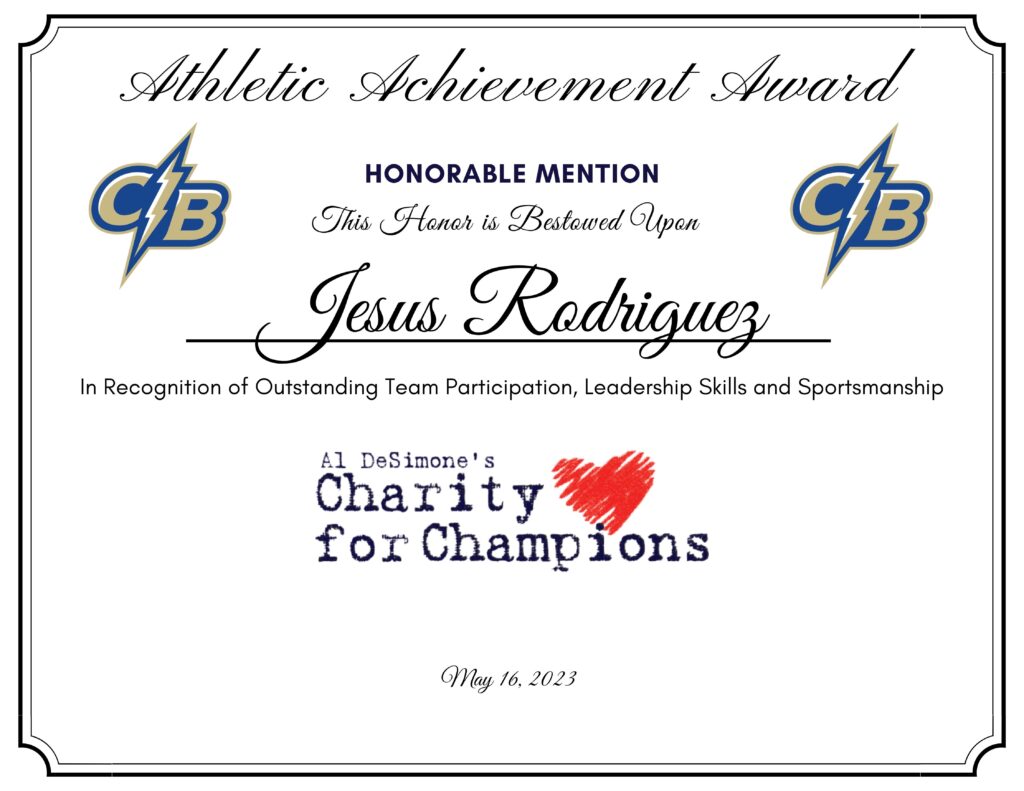 ---
Andrew Punzalan
Athletic Achievement Award Winner
First of all I would like to thank Dr. DeSimone, Ms. Santos and all the committee for the Charity for Champions Scholarship for selecting me as one of the recipients.
I plan to attend Wabash College in Crawfordsville, IN in the Fall 2023 semester. I was very happy and humbled to have been selected as the recipient of the Athletic Achievement Award. Winning this scholarship affirms that old saying that hard work pays off. I worked very hard throughout high school as a student-athlete to meet the demands of my studies and be a good student and a successful athlete, ending my high school career as a State Champion this year. It was exhilarating to be recognized for this in front of family and peers. I plan to attend Wabash College in Indiana where I plan to study either Accounting or Financial Economics and continue to wrestle at the collegiate level. The Charity of Champions scholarship will help me offset some of the cost of attending college and will put me once step closer to achieving my next goals. Thank you again Dr. DeSimone and the entire Charity for Champions foundation for supporting and recognizing so many student-athletes, including myself, with your scholarship throughout the years!! I will continue to work hard to represent your scholarship to the highest standards and will continue to carry the same work ethics on and off the mat as I have done in the past. Thank you again!!!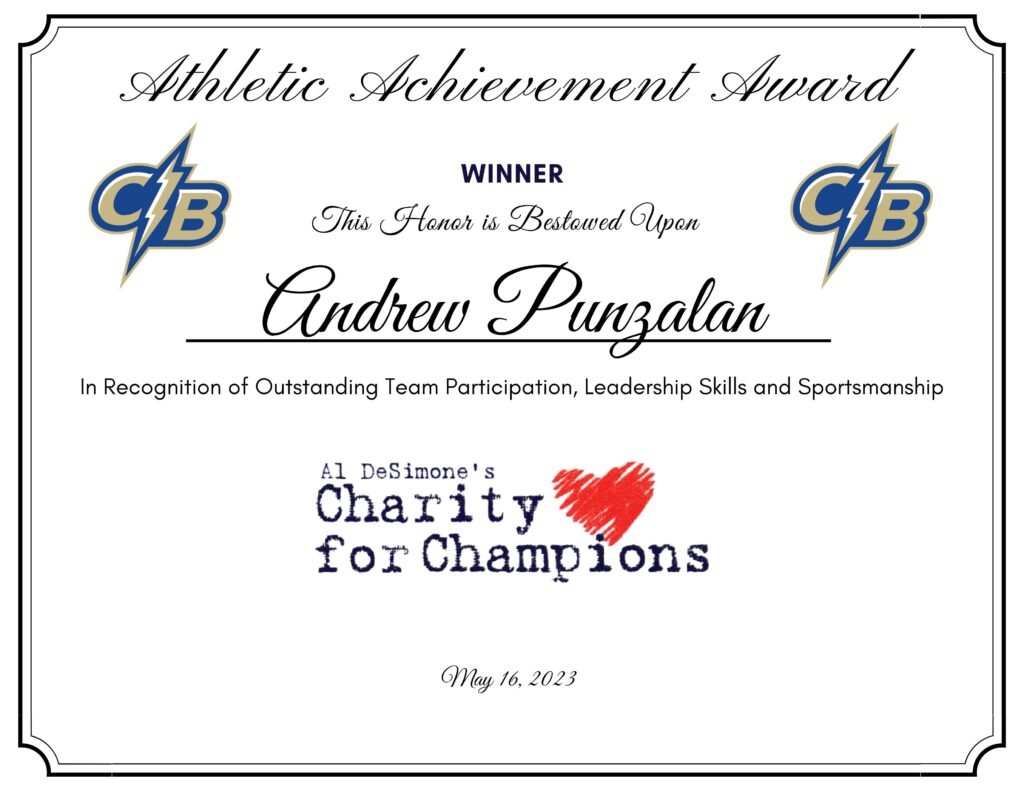 ---
Denzel Rigaud
Personal Achievement Award Winner
First I want to thank you for the scholarship. This scholarship will give me fuel to enable me to pursue my dreams and ambitions. Knowing what I have overcome in the past, will shine in the future. My future plans are just to be great at everything I do, whether working at a job cleaning up dishes or running my own business, or walking down a red carpet. I will like to know that whatever I was doing I was working hard at it.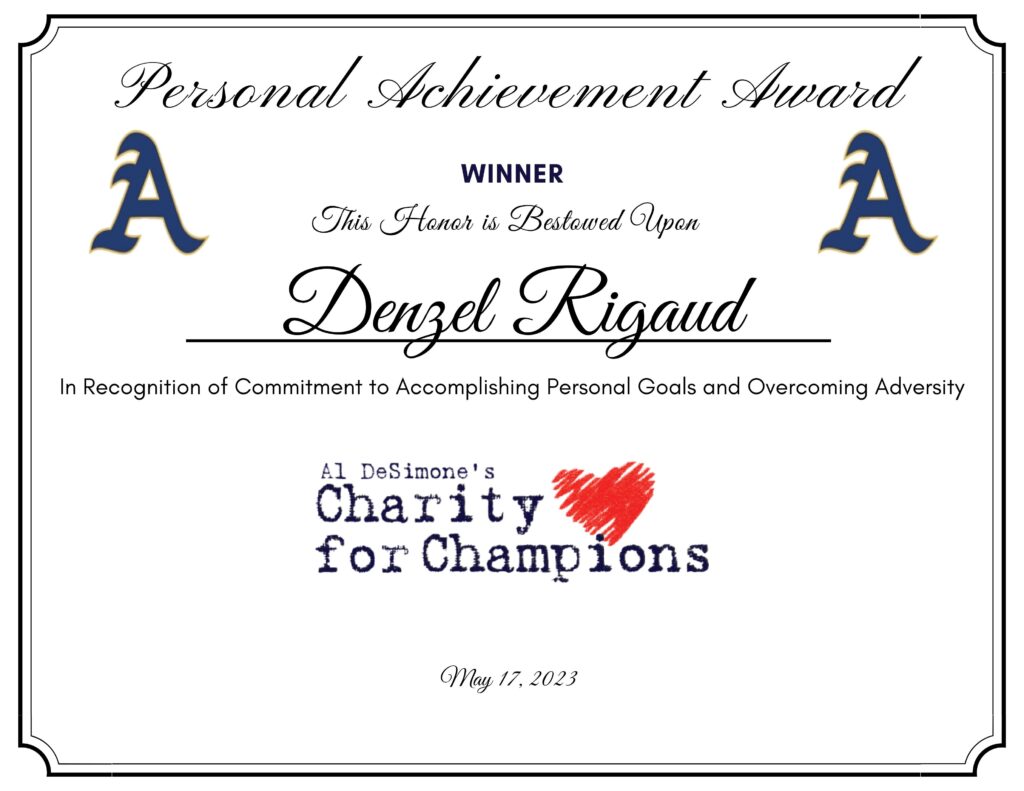 ---
Ashley Mila
Medical Interest Award Winner
I am so grateful to Dr. DeSimone and his team for granting me this scholarship. This fall, I will continue my education at Florida State University majoring in Biology as a pre-med student. I plan to attend medical school after. My goal is to a lot of research in college and become a physician one day. I am particularly interested in reconstructive surgery. This scholarship is going to help me achieve my goals in college, thanks to Charity for Champions.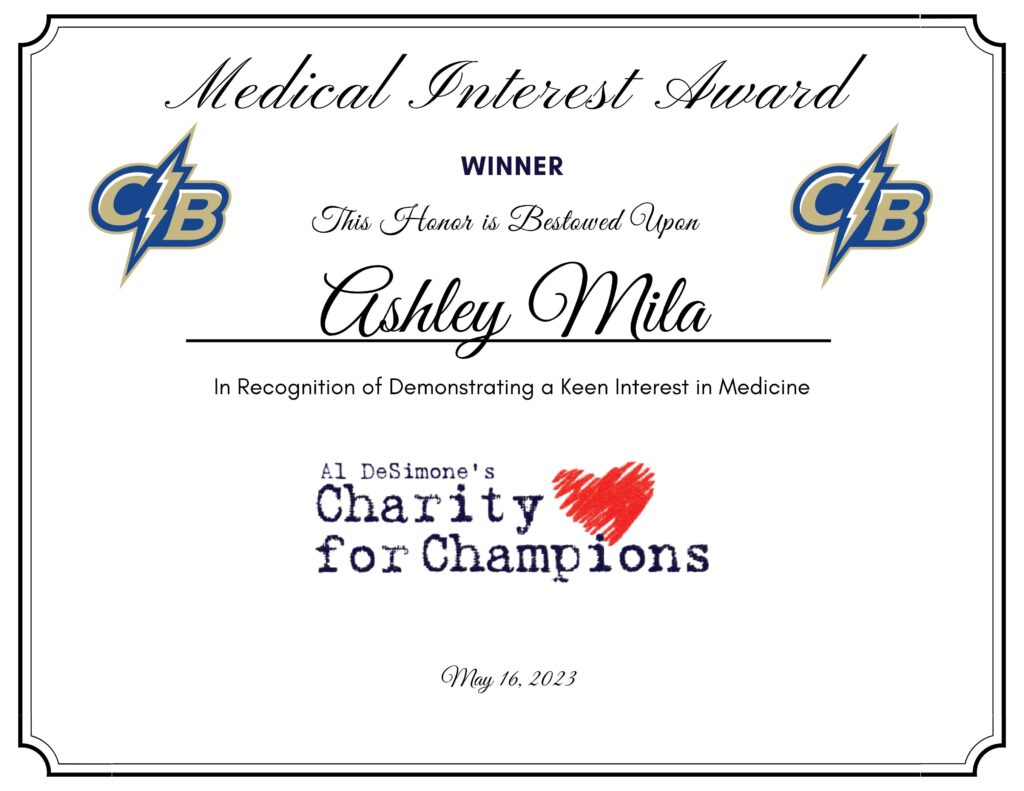 ---
Raylee Leiman
Athletic Achievement Award Winner
My plans for the future are to attend NC State University to continue my academics and softball career. After college, I have thought strongly about working on pediatrics to help children. Receiving this scholarship last week means so much to me as it is a reflection of my commitment to both my community and my teammates. I've worked diligently to be a good human to those around me and to help others in any way I can. Again, having this scholarship is very rewarding and humbling!