2023 SUCCESS STORIES
Kate Lancelot
Extraordinary Community Service Award Honorable Mention
I am honored and extremely grateful to be selected as a recipient of the Charity for Champions Extraordinary Community Service Award scholarship/award. The recognition of this award reaffirms my belief of the importance of giving back to the community and to those around you. You can make a difference, however big or small, and it all matters. After graduating from Cypress Bay High School, I will be attending Texas A&M University in College Station, TX where I plan to major in Business – Accounting. Service Above Self has always been a guiding principle throughout my high school years. I am eager and excited to continue to be actively involved with helping and inspiring those around me in both the Texas A&M and College Station communities. I am truly appreciative and thankful to Dr. DeSimone and his family and the entire Charity for Champions organization for this generous award and support.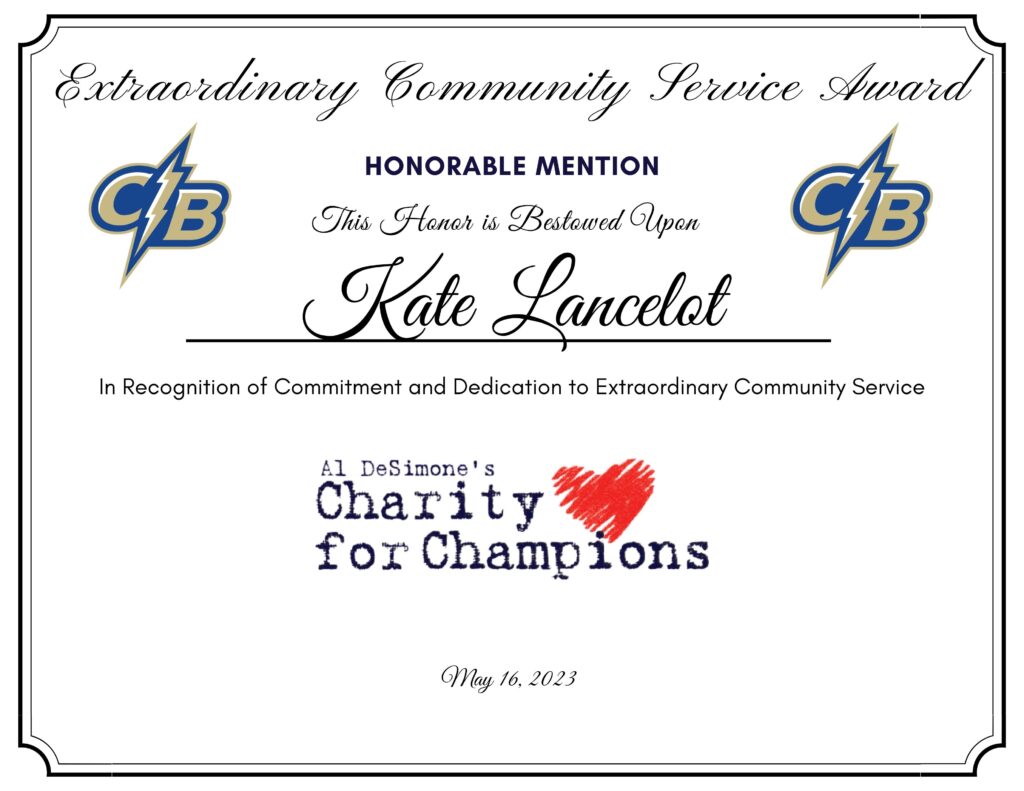 ---
Andre Quintero
Academic Achievement Award Winner
I am extremely grateful for being selected as a recipient of this awarded scholarship, as well as Dr. DeSimone and Charity for Champions for this opportunity. I will be attending Florida State University this fall to pursue Behavioral Neuroscience with an emphasis on Entrepreneurship. I plan on developing a mental and physical performance center for struggling athletes, and this scholarship provides me with more room to bring my future ideas into fruition. I also intend to become the University's track and field team manager to continue utilizing my leadership and gaining the necessary experience in helping student-athletes. I am thankful I was recognized for my achievements, and will continue to move forward and help my community grow no matter where I am.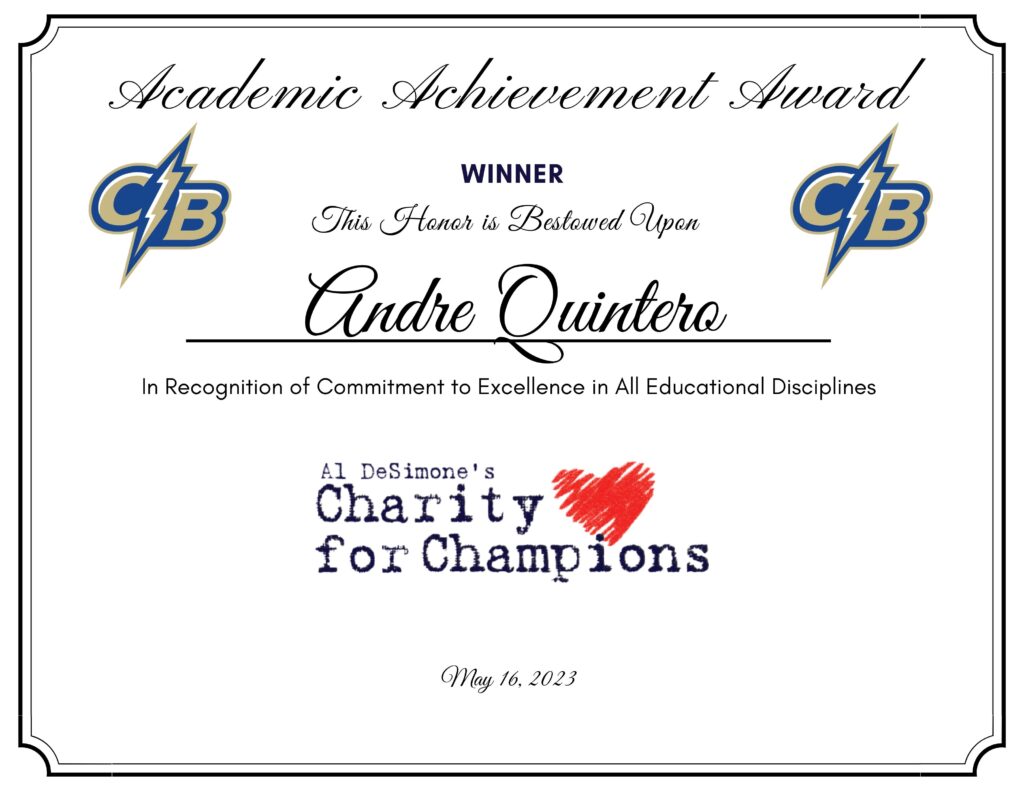 ---
Carolina Cordero
Personal Achievement Award Winner
I would like to thank you for the opportunity for this scholarship it really means a lot to be chosen for it.
I will be attending University of Central Florida this fall a for pre-marketing major. I worked really hard academically and in basketball for all four years of high school while also fighting for my personal goals and trying to become a better person each day. This scholarship means a lot to me not only because the money will help me a lot this first year as I settled in but also the tittle of the Personal Achievement Award which recognizes what I have done outside of school and sports.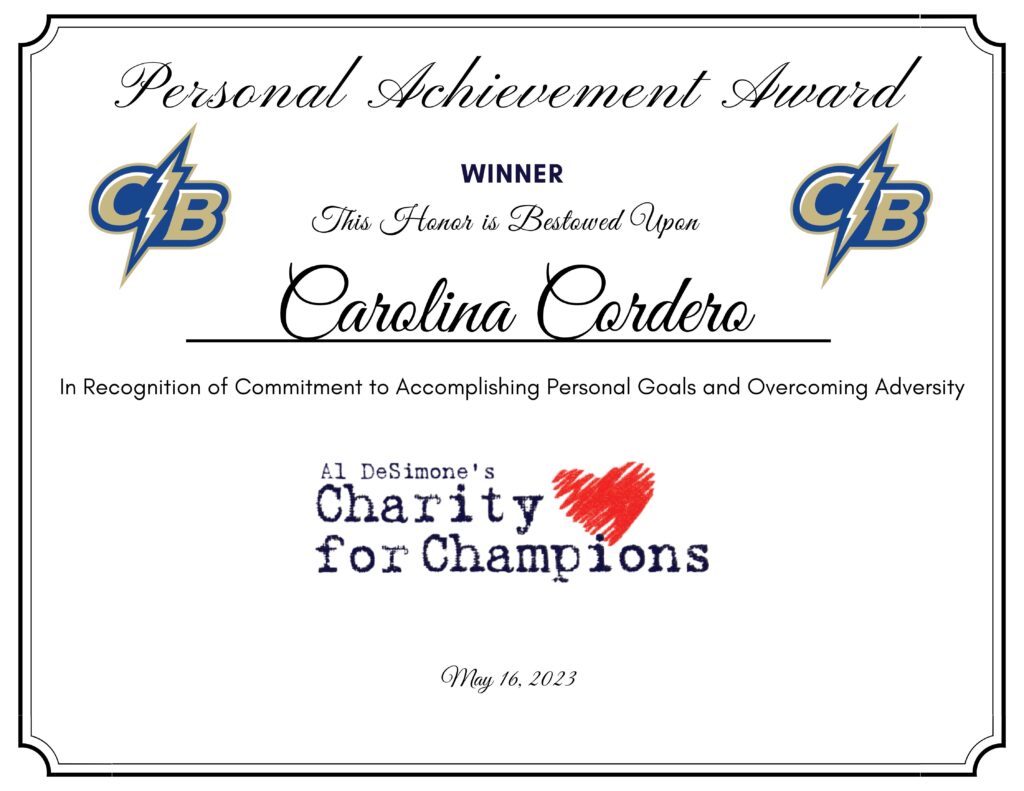 ---
Mariana de Jesus
Artistic Achievement Award Winner
I am extremely honored to have been selected to receive the Artistic Achievement Award. I am incredibly grateful to Dr. DeSimone and the Charity for Champions organization for the opportunity to receive this generous award. I will be attending Florida International University to major in biology and work my way towards entering the medical field. This scholarship has motivated me to continue my efforts to pursue a higher education and further my knowledge. I hope to put this award towards paying my college tuition. This award will not only help me pay for college, but it will also act as a reminder that the effort you put into your goals will always be worth it in the end. Thank you, Dr. DeSimone and Charity for Champions, for your support and this incredible opportunity.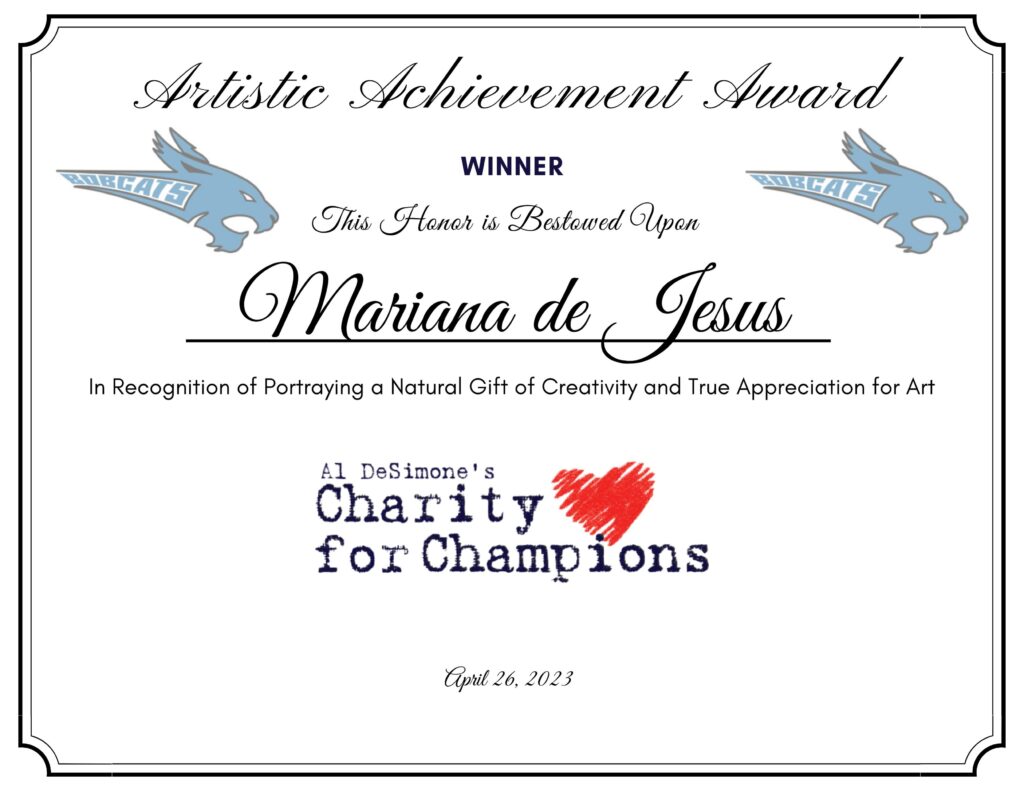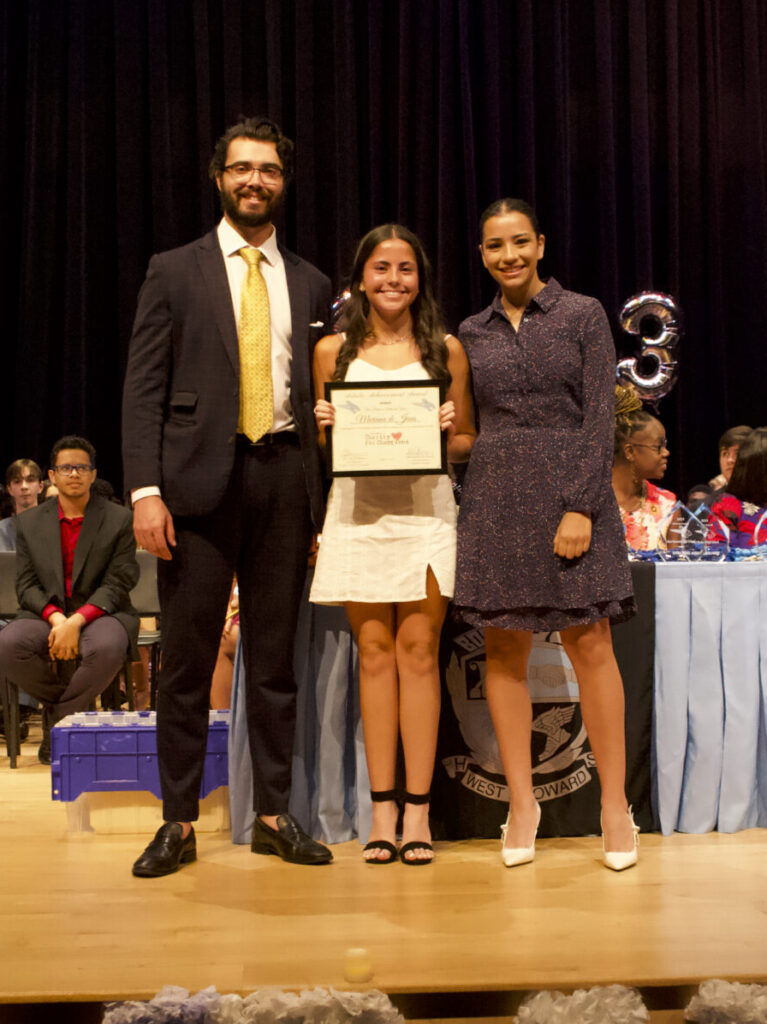 ---
Matthew Prigmore
Team Fellowship Award Winner
I am honored to receive the Team Fellowship Scholarship from Dr. DeSimone's Charity for Champions. As students, we have always been told if you work hard, you can achieve anything. In recent months, the hard work has truly paid off. The hard workouts, late night study sessions and team activities have molded me into the student-athlete I am today. I was recently blessed with an opportunity to continue my athletic career as a preferred walk-on at the University of Central Florida where I will be majoring in business. I will put this scholarship to great use while pursuing my degree. I cannot thank Dr. DeSimone enough for the support that he and his staff have provided our school and the football team. He is fully committed to his community, and it is a true honor to receive this recognition for my hard work as a student-athlete.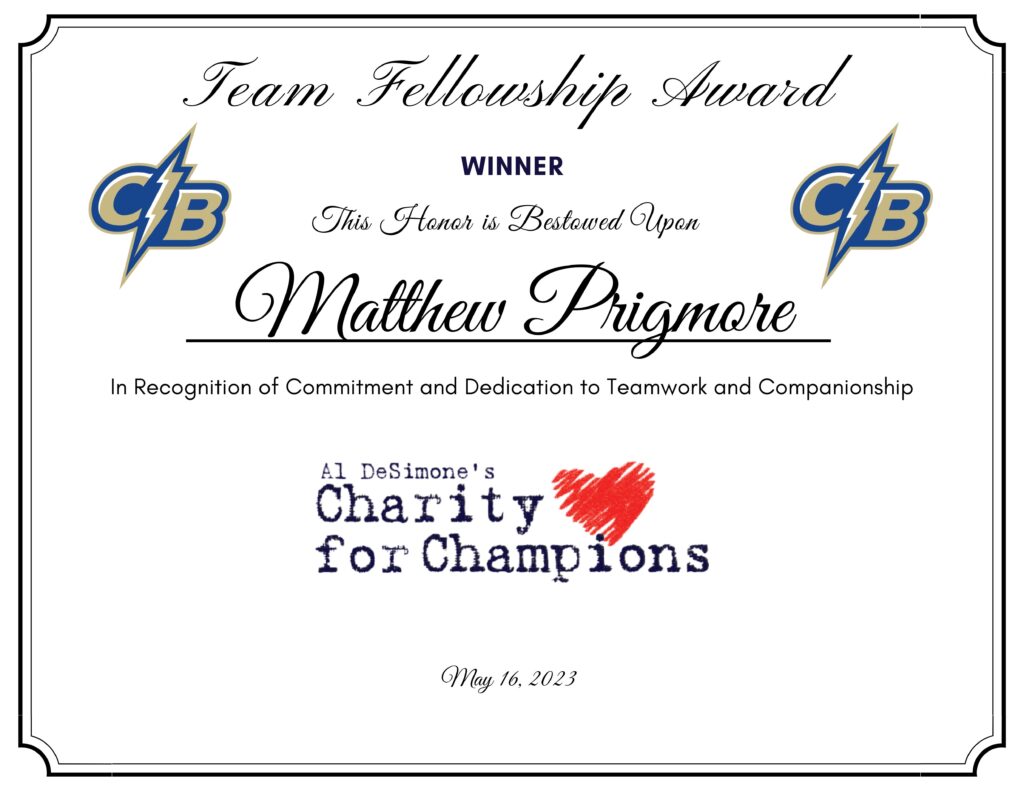 ---
Jack Boswell
Personal Achievement Raider Award Winner
As I wrap up this chapter of my life, my future plans revolve around me attending the University of Central Florida and focusing on my studies and working toward becoming an engineer in the near future. As I am not furthering my football career, I plan to focus on my studies and really be the best student I can be. This scholarship and recognition hold immense significance to me. The scholarship will support me financially, allowing me to fully focus on my studies and participate in valuable extracurricular activities. It would provide access to resources, mentorship, and networking opportunities, which are crucial for my growth as an engineer. Additionally, the recognition would serve as validation for my hard work, dedication, and passion. I thank you for the recognition and am honored to be able to receive this award.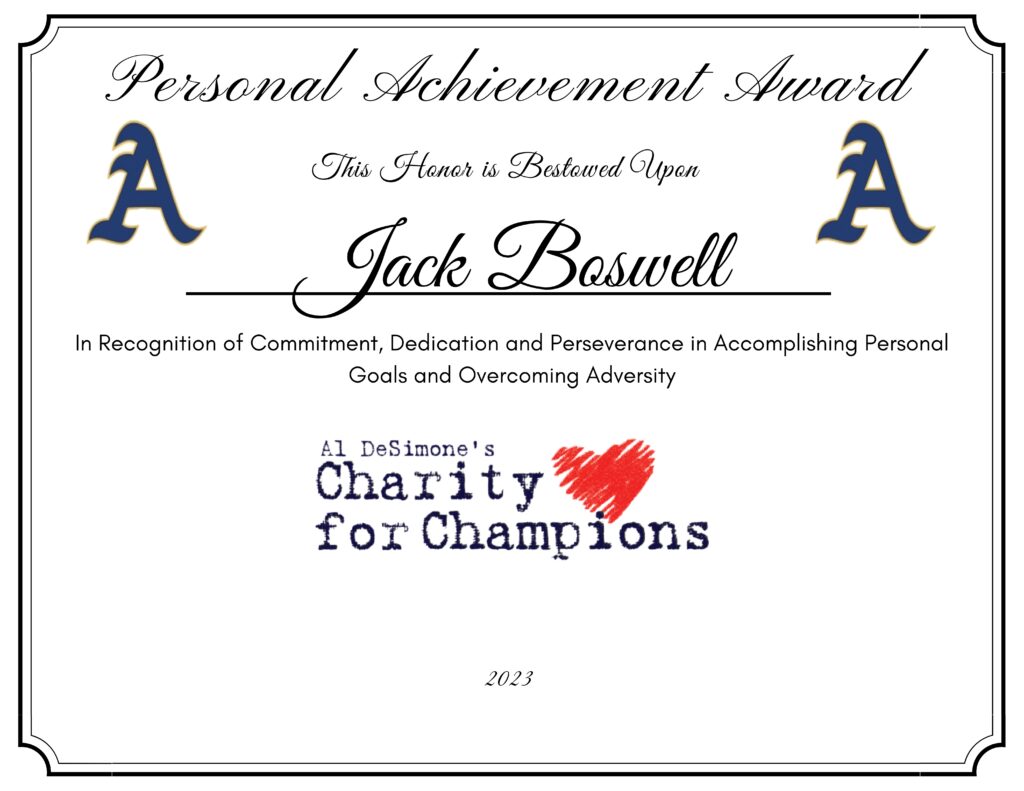 ---
Emma Mogford
Athletic Achievement Award Winner
I first off want to thank Charity for Champions for taking the time to recognize not only my achievements but my character in this scholarship process. In my upcoming college endeavors I will be studying biology at the University of Tampa. I hope to one day become a Nurse Practitioner to open my own practice and give back to my community that has provided me with so much. This scholarship will allow me to meet my goals financially but also has given me the confidence and reminder of the great things I can achieve! I cannot express enough thanks for the opportunity to be awarded this scholarship!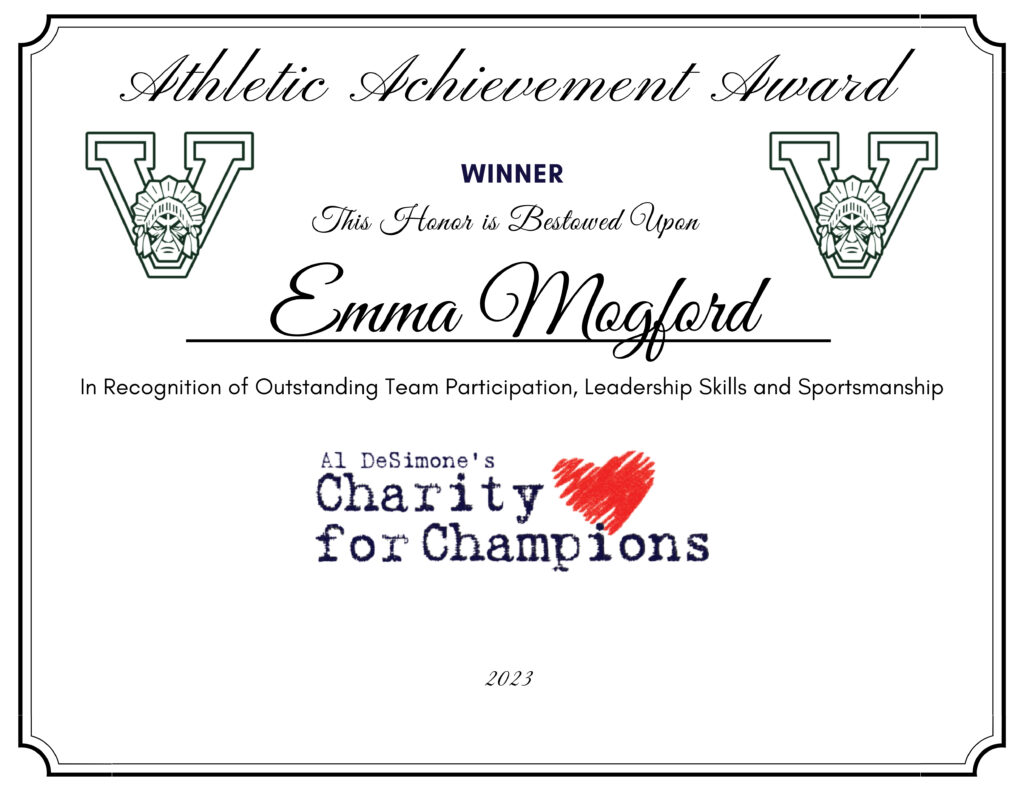 ---
Madeline Terek
Goodwill Scholarship Winner
I am honored to be a recipient of the 2023 Charity for Champions Goodwill Scholarship. I am so thankful for Dr. DeSimone, his team, and their generosity. This scholarship will not only provide me with financial support throughout college but also serves as great motivation to continue working hard while demonstrating devotion and kindness. I plan to attend Samford University in the fall on the Early Assurance Pre-pharmacy track. I aspire to own a compounding, community-based pharmacy that focuses not only on a patients medical needs but also forming meaningful relationships with my customers. One day I hope to be able to give back to students the same way that Dr. DeSimone has given to me. Being awarded this scholarship will allow me to achieve my dreams and serve others to the best of my ability. Once again, I would like to say thank you to the Charity for Champions team for acknowledging my hard work throughout Highschool and I look forward to seeing what kindness I can spread in the near future.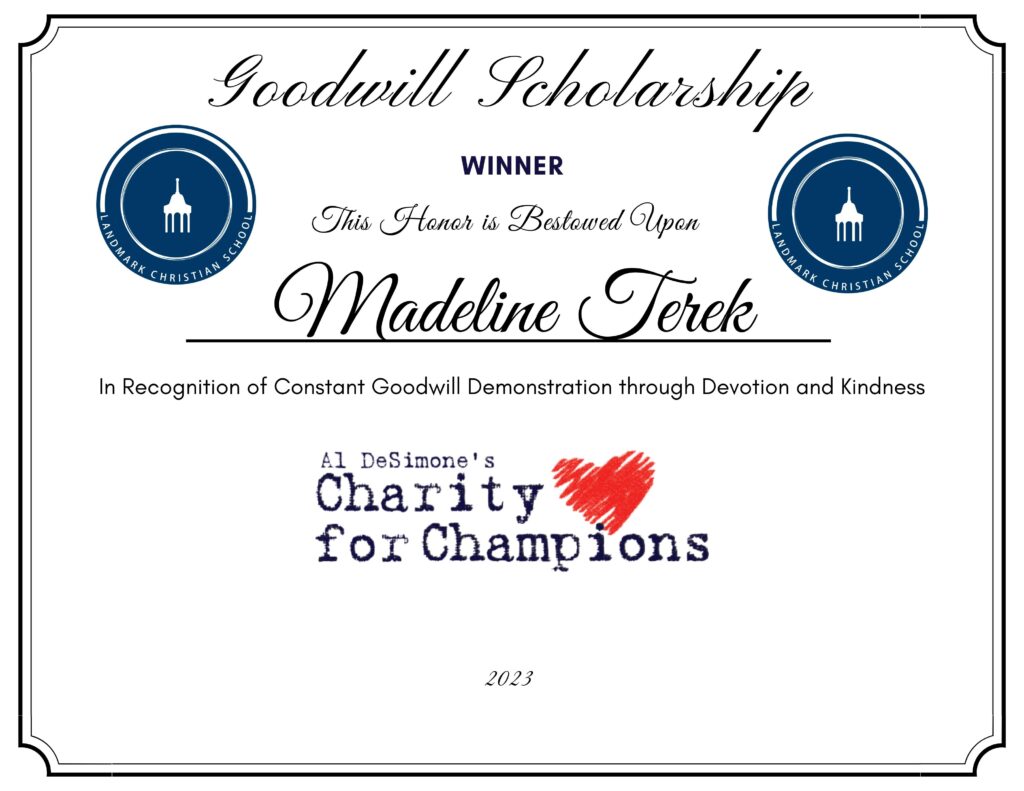 ---
Micah Isma
Most Improved Athlete Award Winner
My future plans are to attend UCF in the fall and major in architectural engineering.This scholarship and recognition means a lot to me and my family. I really appreciate and am thankful for the opportunity and support I have received from Charity for Champions. I am forever grateful for their recognition and I am honored to have received this award. This award is something I will never forget, so I would like to personally thank, Dr. DeSimone, Selena, and Hayden for their help in making this happen.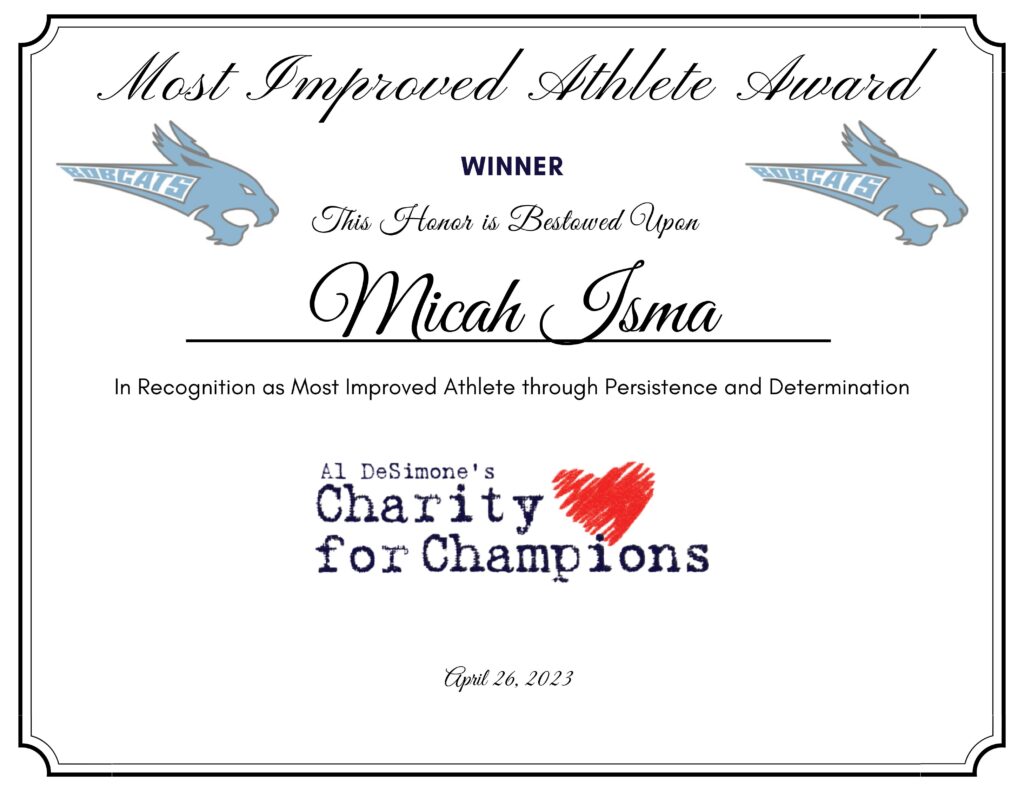 ---
Leah Bartlett
Personal Achievement Award Winner
I am truly blessed to receive this amazing scholarship award that represents the student athletes in our communities. I competed in three sports at Venice high school: Volleyball, Girls Weightlifting, and Track and Field. I am happy to say that I am continuing my Track career to the next level at Embry Riddle Aeronautical University. At Embry Riddle I will be pursuing a Masters Degree in Aerospace Engineering and hopefully work for either NASA or Boeing. I want to thank Dr. DeSimone and everyone at Charity for Champions for selecting me as the Personal Achievement recipient and for helping me pursue my college career.